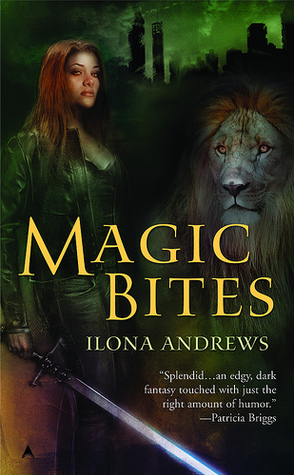 Today's post is on
Magic Bites
by Ilona Andrews. It is 260 pages long and is published by Ace Fantasy. It is the first in the Kate Daniels series. The intended reader is someone who likes urban fantasy with a twist, high action, and witty main characters. The cover has the two main characters on it. There is language, talk of sex and rape, and lots of violence in this book. The story is told from the first person perspective of the main character Kate. There Be Spoilers Ahead.
From the back of the book-
Atlanta would be a nice place to live, if it weren't for magic…
One moment magic dominates, and cars stall and guns fail. The next, technology takes over and the defensive spells no longer protect your house from monsters. Here skyscrapers topple under onslaught of magic; werebears and werehyenas prowl through the ruined streets; and the Masters of the Dead, necromancers driven by their thirst of knowledge and wealth, pilot blood-crazed vampires with their minds.
In this world lives Kate Daniels. Kate likes her sword a little too much and has a hard time controlling her mouth. The magic in her blood makes her a target, and she spent most of her life hiding in plain sight.
But when Kate's guardian is murdered, she must choose to do nothing and remain safe or to pursue his preternatural killer. Hiding is easy, but the right choice is rarely easy…
Review- An interesting and intense urban fantasy that moves really fast. As a fan of urban fantasy this one is very interesting and different from the rest. Someone made magic real, either again or for the first time, and now the world going between magic working or tech working. It makes some the world building very interesting. I like Kate and I can see why she would make some people uncomfortable but if she was a man there would little to no problem. I like the fact that she acts like a person, not a woman, but a human being in a very stressful time. I think that she is a good main character and I look forward to reading more about her.
I give this book a Four out of Five stars. I get nothing for my review and I bought this book with my own money.