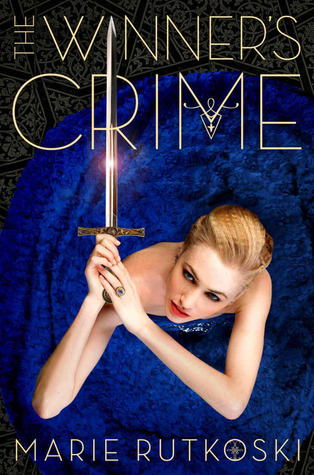 Today's post is on
The Winner's Crime
by Marie Rutkoski. It is the second her
Winner's
trilogy
. It is 402 pages long and is published by Farrar Satraus Giroux Books. The cover is deep blue with the main character on it holding a sword. The intended reader is young adult, has read the first one, and likes good writing. There is no sex, no language, and mild violence in this book. The story is told from third person close of the two main characters. There Be Spoilers Ahead.
From the dust jacket-
Following your heart can be a crime.
A royal wedding means one celebration after another: balls, fireworks, and revelry until dawn. But to Krestrel it means living in a cage of her own making. As the wedding approaches, she aches to tell Arin the truth about her engagement: that she agreed to marry the crown prince in exchange for Arin's freedom. But can Krestrel trust Arin? Can she even trust herself?
Kestrel is becoming very good at deception. She's working as a spy in the court. If caught, she'll be exposed as a traitor to her country. Yet she can't help searching for a way to change her ruthless world... and she is close to uncovering a shocking secret.
This dazzling follow-up to
The Winner's Curse
reveals the high price of dangerous lies and untrustworthy alliances. The truth will come out, and when it does, Krestrel and Arin will learn just how much their crimes will cost them.
Review-
This was a very solid second book but I do have some problems with it. Arin is just dumb for the whole book. The plot was slow but it is going places and getting everything ready for the last act. Krestrel is doing the best she can but Arin just does not want to see. He is all hurt about the stuff from the first book and so he is not thinking. And he spends the whole book not thinking. As the end I had hope that maybe he was going to finally see what Krestrel was doing but he ruined it by continuing to not listen to her. At this point I hope that Krestrel ends up either with the prince, who is very nice, or on her own. Arin is just too stupid. That said that was my only real problem with the book. Everything else was good.
I give this book a Four out of Five stars. I get nothing for my review and I borrowed this book from my local library.