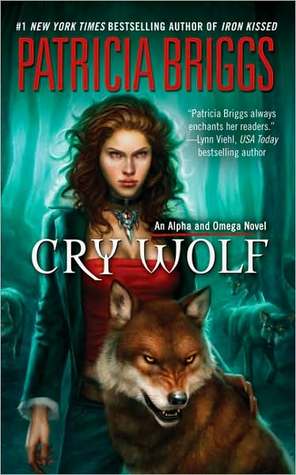 Today's post is on
Cry Wolf
by Patricia Briggs. It is the first in her
Alpha & Omega
series. It is 294 pages long and is published by ACE. The cover has the two main characters on it Anna as a human and Charles in his wolf form. The intended reader is someone who likes urban fantasy, a fan of Briggs, and werewolf stories. There is some mild language, sex, and violence in this book. The story is told from third person close of the characters moving from one to the next as it goes. There Be Spoilers Ahead.
From the back of the book-
Anna never knew werewolves existed, until the night she survived a violent attack... and became one herself. After three years at the bottom of the pack, she'd learned to keep her head down and never, ever trust dominant males. Then Charles Cornick, the enforcer—and son—of the leader of the North American werewolves, came into her life.
Charles insists that not only is Anna his mate, but she is also a rare and valued Omega wolf. And it is Anna's inner strength and calming presence that will prove invaluable as she and Charles go on the hunt in search of a rogue werewolf—a creature bound in magic so dark that it could threaten all of the pack.
Review- This was a fun and unusual urban fantasy. Anna is an omega and that makes her out of the pack but very important to it. Charles is a very alpha kind of guy who is having to learn new things about himself and the world he has lived in for over 200 hundred years. The romance is very downplayed, which I found surprising. I thought it was going to be more important to the plot overall because of the whole mating thing. Lots of politics and plot heavy things going on but I liked the world building and I have not read Briggs main series Mercy Thompson. I look forward to reading the rest of the series.
I give this book a Five out of Five stars. I get nothing for my review and I borrowed this book from my local library.