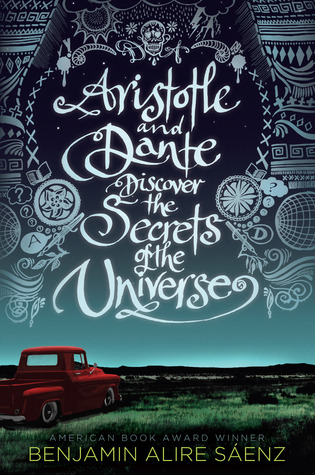 Today's post is on
Aristotle and Dante Discover the Secrets of the Universe
by Benjamin Alire Saenz. It is 359 pages long and is published by Simon & Schuster. The cover is the early night time sky with a red truck under the title. There is mild foul language, no sex, and mild violence in this novel. The intended reader is young adults, people interested in helping young gay kinds, and touching stories. The story is told from first person perspective of the main character Aristotle. There Be Spoilers Ahead.
From the back of the book-
Aristotle is an angry teen with a brother in prison. Dante is a know-it-all who has an unusual way of looking at the world. When the two meet at the swimming pool, they seem to have nothing in common. But as the loners start spending time together, they discover that they share a special friendship—the kind that changes lives and lasts a lifetime. And it is through this friendship that Ari and Dante will learn the most important truths about themselves and the kind of people they want to be.
Review- This is an interesting story about a young man learning who he is. Aristotle, or Ari as he likes to be called, grows so much over the course of the story. When the novel begins he does not think much about himself or anything really. He is angry but does not know how to express it. His family does not talk about anything. Not his brother in jail not his father's war experience, nothing that is really hard. Dante's family on the other does talk about everything and that is one of the things that makes Ari change. But Ari is still learning about himself and the answers he finds are surprising to him. The sexuality is a major topic but there is no sex in the novel itself. It is respectful of sensitive readers while having an honest discuss about it.
I give this novel a Four out of Five stars. I get nothing for my review and I borrowed this novel from my local library.