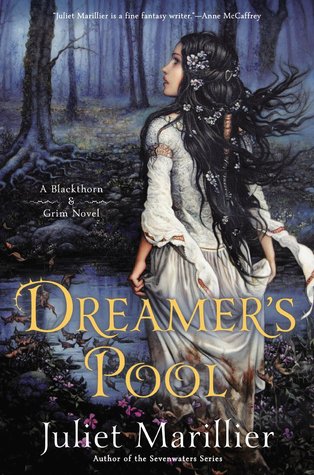 Today's post is on
Dreamer's Pool
by Juliet Marillier. It is the first in her
Blackthorn & Grim
series. It is 434 pages long and is published by ROC. The cover is a beautiful oil painting of the one of side characters going into the Dreamer's Pool. The intended reader is someone who likes historical fantasy, excellent writing, and excellent world building. There is some language, implied sex, and violence in this book. The story is told from one of three of the main character's perspective changing from chapter to chapter. There Be Spoilers Ahead.
From the dust jacket-
In exchange for help escaping her long and wrongful imprisonment, embittered magical healer Blackthorn has vowed to set aside her bid for vengeance against the man who destroyed all that she once held dear. Followed by a former prison mate, a silent hulk of a man named Grim, she travels north to Dalriada. There she'll live on the fringe of a mysterious forest, duty bound for seven years to assist anyone who asks for her help. Oran, crown prince of Dalriada, has waited anxiously for the arrival of his future bride, Lady Flidais. He knows her only from a portrait and sweetly poetic correspondence that have convinced him Flidais is his destined true love. But Oran discovers letters can lie. For although his intended exactly resembles her portrait, her brutality upon arrival proves she is nothing like the sensitive woman of the letters.
With the strategic marriage imminent, Oran sees no way out of his dilemma. Word has spread that Blackthorn possesses a remarkable gift for solving knotty problems, so the prince asks her for help. To save Oran from his treacherous nuptials, Blackthorn and Grim will need all their resources: courage, ingenuity, leaps of deduction, and more than a little magic.
Review- What a beautifully written book this is. It is truly an exercise in
exquisite style. Marillier is a craftswoman and it shows. From the opening line the world building is some of the best I have ever read. Mariellier takes a view of ancient Ireland and makes it as magical as I would want it to be. Blackthorn and Grim are both good characters. They have some serious flaws that make them more real and more understandable. Blackthorn wants revenge to the point of madness but I am still not sure what is driving Grim. He wants to forget something but cannot. I look forward to getting to know him better. Together they work for the good of the community around them. Not because they are good themselves but because that is the only way that Blackthorn will see justice done. The magic is very subtle, it is not everywhere and very clear but if you look for it you will see it. I cannot wait to read the second novel.
I give this book a Five out of Five stars. I get nothing for my review and I borrowed this book from my local library.