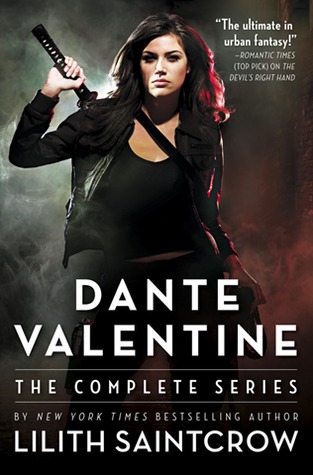 Today's post is on
Dead Man Rising
by Lilith Saintcrow. It is the second in her
Dante Valentine
series. The cover has the main character on it looking cool and deadly. The story is told from the first person perspective of Dante. There is violence, language, and sexuality in this novel. There intended reader is someone who has read the first novel, likes gritty future urban fantasy, and BA heroines. There Be Spoilers Ahead.
From Amazon.com-
When the dead call, she answers.
Bounty hunting is a helluva job, but it pays the bills. And it lets Necromance Dante Valentine forget her issues---like struggling with her half-demon side and the memory of her lover's death.
Now psychics all over the city are being savagely murdered---and a piece of the past Dante thought she'd buried is stalking the night with a vengeance. Too bad she's got no way to tell which fiend--or friend--to trust.
Or that her most horrifying nightmares are gathering to take one kick-ass bounty hunter down for the count.But that's only the beginning. The Devil just called. He's looking for Dante's lover--the one he killed...
Review-
This novel picks up about ten months after the first one with all the problems we were left with. Dante does not what she is, she is grieving for
Japhrimel and fielding calls from the Devil himself. When murders bring back bad, old memories Dante just does not know where to go. The world-building is great in this one. Saintcrow really gets into all the supernatural beings and some into their society. The best part was with this world is the vampires. It was a great scene that did so much for the wider world that Dante just does know or not want to get into. Dante is grieving so much of her thinking is about that and then reliving some bad stuff that happened to her as a child but I think that Saintcrow handles it well. It is bad without making Dante into a victim. She is not one and at the end of the novel, she knows it for sure. I look forward to the next book, Devil's Right Hand.
I give this book a Five out of Five stars. I get nothing for my review and I bought this book with my own money.