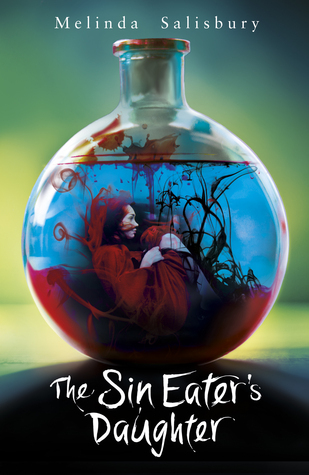 Today's post is on
The Sin Eater's Daughter
by Melinda Salisbury. It is the first in a trilogy. It is 312 pages long and is published by Scholastic Press. The cover is green with a girl in a glass bottle with blood floating around her. The intended reader is young adult, likes fantasy, and love stories. There is mild language, violence, and sexuality in this book. The story is told from the first person perspective of the main character. There Be Spoilers Ahead.
From the dust jacket-
Seventeen-year-old Twylla lives in the castle. But although she's engaged to the prince, Twylla isn't a member of the court.
She's the executioner.
As the Goddess embodied, Twylla instantly kills anyone she touches. Each month, she's taken to the prison and forced to lay her hands on those accused of treason. Even the prince, whose royal blood supposedly makes him immune to Twylla's fatal touch, avoids her company.
But then a new guard arrives, whose smile belies his deadly swordsmanship. And unlike the others, he's able to see the girl, not the Goddess. Yet Twylla's been promised to the prince, and knows far too well what happens to people who cross the queen.
However, a treasonous secret is the least of Twylla's problems. The queen has a plan to destroy her enemies- a plan that requires a stomach-churning, unthinkable sacrifice. Will Twylla do what it takes to protect her kingdom? Or will she abandon her duty in favor of a doomed love?
Review-
I have mixed feelings about this novel. But one thing that I know for sure is that if Twylla must have a love story I want her to choose the prince. The other guy was just using her from the beginning, even if he swears that now he loves her, he still thought some very horrible things and used her in ways that are unforgivable. I was hoping that this was a stand alone novel. Yes the ending would have left some people unhappy but I would have liked it. The writing was good but I really just wanted her to see what the other guy was doing and not go for it. I do not think that I will be reading the next books. I just did not like this one enough.
I give this novel a Three out of Five stars. I get nothing for my review and I borrowed this book from my local library.