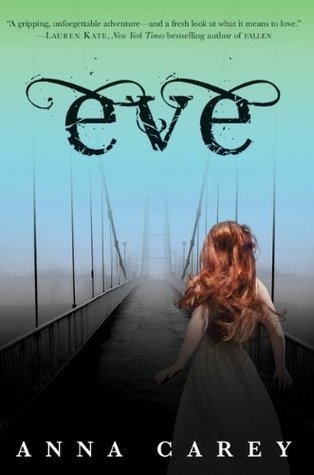 Today's post is on
Eve
by Anna Carey. It is the first in her
Eve
Trilogy. It is 318 pages long and is published by Harper. The cover is blue with the main character running across a bridge. The intended reader is someone who likes young adult, dystopian stories, and easy reading. The story is told from the first person perspective of Eve. There is mild language, talk of rape, and violence in this book. There Be Spoilers Ahead.
From the dust jacket-
Where do you go when nowhere is safe?
Sixteen years after a deadly virus wiped out most of Earth's population, the world is a perilous place. Eighteen-year-old Eve has never been beyond the heavily guarded perimeter of her school, where she and two hundred other orphaned girls have been promised a future as the teachers and artists of the New America. But the night before graduation, Eve learns the shocking truth about her school's real purpose and the horrifying fate that awaits her.
Fleeing the only home she's ever known, Eve sets off on a long, treacherous journey, searching for a place she can survive. Along the way she encounters Arden, her former rival from school, and Caleb, a rough, rebellious boy living in the wild. Separated from men her whole life, Eve has been taught to fear them, but Caleb slowly wins her trust... and her heart. He promises to protect her, but when soldiers begin hunting them, Eve must choose between true love and her life.
Review-
This is a retelling of Margaret Atwood
The Handmaid's Tale
for this generation and Carey does a good job at it. Eve believes that the world is being reborn and she will get help it be reborn. What she does not know it is that young women are the ones doing the birthing by force. This is a very dark dystopian, as it should be since it is a retelling of a very dark story, but Carey handles it well. Eve is a little dumb and at one point I wanted to slap her but in the end I like the character. The world is very gritty without getting overwhelmingly dark. The plot is a little scary but I am adult and the thought of young women being forced to have children after children, because they are carrying more than one baby at a time, is very disturbing. But Carey does not let the reader get too involved with that part of the story but I am hoping that she does go back and address it in the next two books.
I give this book a Five out of Five stars. I get nothing for my review and I have given this series as a gift.