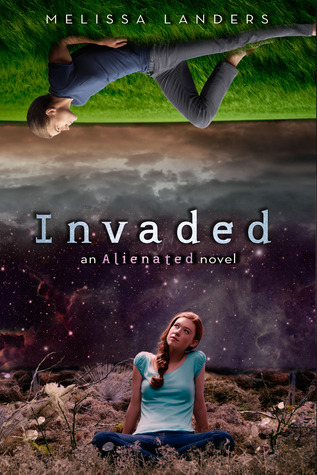 Today's post is on
Invaded
by Melissa Landers. It is book two in her
Alienated
series. It is 356 pages long and is published by Hyperion. The cover has Cara on bottom looking at Aelyx who is upside down on top of the book. The intended reader is someone who has read the first book, likes science fiction, and romance. There is no sex, mild language, and mild violence in this book. The story is told in third person close of the two main characters. There Be Spoilers Ahead.
From the dust jacket-
Cara always knew life on planet L'eihr would be an adjustment. With Aelyx, her L'eihr boyfriend, back on Earth, working to mend the broken alliance between their two planets, Cara is left to fend for herself at a new school, surrounded by hostile alien clones. Even the weird dorm pet hates her.
Things look up when Cara is appointed as human representative to a panel preparing for a human colony on L'eihr. A society melding their two cultures is a place where Cara and Aelyx could one day make a life together. But with L'eihr leaders balking at granting even the most basic freedoms, Cara begins to wonder if she could ever be happy on this planet, even with Aelyx by her side.
Meanwhile, on Earth, Aelyx, finds himself thrown into a full-scale PR campaign to improve human-L'eihr relations. Humans don't know that their very survival depends on this alliance: only Aelyx's people have the technology to fix the deadly contamination in the global water supply that human governments are hiding. Yet despite their upper hand, the leaders of his world suddenly seem desperate to get humans on their side, and hardly bat an eye at extremists' multiple attempts on Aelyx's life.
The Way clearly needs humans' help . . . but with what? And what will they ask for in return?
Review- Not a bad book but I was very annoyed with the L'eihrs, including Aelyx, all the way through the book again. Cara is not too bad but I was just so over the whole L'eihrs culture that I could not really enjoy her. The aliens that the blurb talk about are not in the book. The real drama is all about what the side characters can really do and why. The L'eihrs at all levels are unpleasant from the leaders who are lying and hiding to the young ones that Cara has to interact with, who just want to make everything unpleasant from Cara's day to the plot in general. And because of her position, Cara cannot really call any of them on it. So I was really annoyed with this book. I hope the next is better.
I give this book a Three out of Five stars. I get nothing for my review and I borrowed this book from my local library.