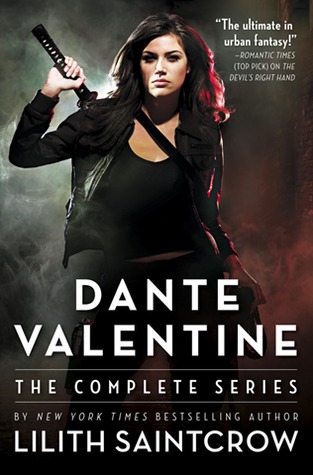 Today's post is on
Saint's City Sinners
by Lilith Saintcrow. It is the fourth in her
Dante Valentine
series. The cover is the cover of the omnibus of the whole series with Dante on the cover looking cool. The intended reader is someone who likes gritty urban fantasy, female main character, and lots of fight scenes. There is no sex, language, and lots of violence in this book. The story is told from the first person perspective of Dante. There Be Spoilers Ahead.
From Goodreads-
Saint City has always been Dante Valentine's home. It's where she grew up, it's where her dead are buried, and it's where she learned to hunt.
Now, one call from an old friend will bring her back to investigate a murder too close to home for anyone's comfort. But the one person she trusted has just betrayed her.
Sometimes revenge is best served demon-hot...
Review- So
Japhrimel had annoyed me in the last book and he is still annoying me. But Dante told him where to put in this time so I am happier with her at the end of this one than the last. But Dante is still being very bad at relationships so she does not get a pass either. Instead of being honest with Japhrimel, she just avoids it. Until she cannot any more then she yells. I would like it better if they would just yell it out and then move on. But that is not the way that this works. It ends with a cliffhanger that, maybe, I would have found annoying if I was reading this as it came out but I am not sure. But I did not think that it was a cheap place to leave Dante. Only one more book to go then finished with this series.
I give this book a Four out of Five stars. I get nothing for my review and I bought this book with my own money.