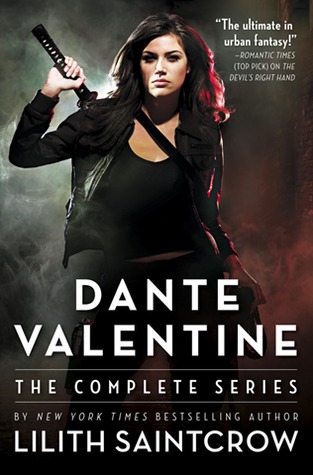 Today's post is on
To Hell and Back
by Lilith Saintcrow. It is the last in her
Dante Valentine
series. It is 416 pages longs and is published by Orbit. The cover has Dante on it looking cool. The intended reader is someone who has read the rest of the series, likes gritty urban fantasy, and lots of violence. There is language, no sex, and lots of violence in this book. The story is told from the first person perspective of the main character Dante. There Be Spoilers Ahead.
From Goodreads-
Dante Valentine has been through Hell. Literally. Her body shattered and her mind not far behind, she's dumped back into her own world to survive--or not--as a pawn in one of Lucifer's endless games.
Unfortunately, he's just messed with the wrong Necromance. And this time she's mad enough to do something about it.
This time, the Devil will pay.
Review-
A very good ending. Everything is finished but nothing is really set in stone. Dante is still very damaged by the events of the books but she comes out on the other side of all the bad stuff and I think that she is better for it. I do not think that her relationship with Japhrimel will ever be the same but who knows, maybe they can work something out. The writing is really very good. I like the way that Saintcrow takes the things that we know so well and makes them into something just a little off. I had some problems with the characters but all in all I really like this series. I like Dante, I like Japhrimel, and I just like the world that Saintcrow created. I look forward to reading more from her soon.
I give this book a Five out of Five stars. I get nothing for my review and I bought this book with my own money.