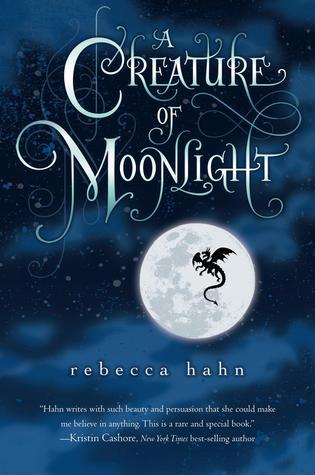 Today's post is on
A Creature of Moonlight
by Rebecca Hahn. It is a stand alone novel. It is 313 pages long and is published by Houghton Mifflin Harcourt. The cover is blue with a silver moon and a black dragon on it. There intended reader is young adult. There is no language, no sex, and talk of violence in this book. The story is told from the perspective of the main character. There Be Spoilers Ahead.
From the dust jacket-
The girls who escape into the forbidden woods do it for one reason: freedom. But Marni has never heeded the voices that call to her from among the trees, the ones that lured her mother away so many years ago. Marni is the rightful heir to the throne, though she lives in exile, growing flowers for the court. While it isn't the life of a princess, at she's been safe- until now.
Marni is not a little girl anymore. People are starting to notice her, and the voices in the woods have grown too loud to ignore. When the trees themselves begin to move in on the kingdom, Marni knows she must make a choice. She could claim her birthright as princess of a realm whose ruthless king wants her dead. Or she could make a life with the father she has never known: the wild dragon who is sending his magical woods to capture her.
Review-
This book was interesting and I really liked the heroine. She does not fall in love with anyone and she stays true to herself. Marni is the half-human princess who just wants to live her life without getting killed by her uncle. She has had to deal with people ignoring her or
manipulating her all her life. Her uncle cannot decide if he wants to kill her or not. I liked her aunt a lot. Her aunt does not see a dragon's daughter, she sees her niece who needs someone to love her. The love interest gets forgotten very quickly and that pleased me. Marni stands up for herself to everyone including her dragon father. I liked that the magic just worked, it was something that Marni just knew how to do. She had to learn some things but then she was off and flying. I hope that Hahn gets more books published but I hope that she leaves this one alone. It is done.
I give this novel a Four out of Five stars. I get nothing for my review and I borrowed this book from my local library.