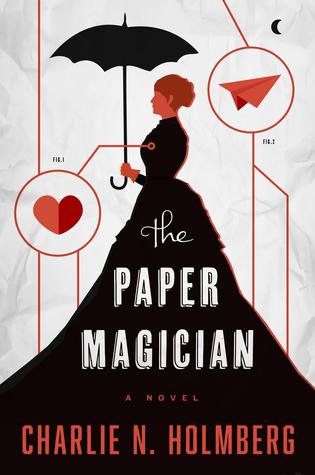 Today's post is on
The Paper Magician
by Charlie N. Holmberg. It is the first in her
Paper Magician trilogy
. It is 214 pages long and is published by 47 North. The cover has the main character on it as a paper doll. The intended reader is someone who likes magic, historical fantasy, and some romance. There is no sex, no language, and some violence in this book. The story is told from third person close of the main character. There Be Spoilers Ahead.
From the back of the book-
Ceony Twill arrives at the cottage of Magician Emery Thane with a broken heart. Having graduated at the top of her class from the Tagis Praff School for the Magically Inclined, Ceony is assigned an apprenticeship in paper magic despite her dreams of bespelling metal. And once she's bonded to paper, that will be her only magic… forever.
Yet the spells Ceony learns under the strange yet kind Thane turn out to be more marvelous than she could have ever imagined — animating paper creatures, bringing stories to life via ghostly images, even reading fortunes. But as she discovers these wonders, Ceony also learns of the extraordinary dangers of forbidden magic.
An Excisioner — a practitioner of dark, flesh magic — invades the cottage and rips Thane's heart from his chest. To save her teacher's life, Ceony must face the evil magician and embark on an unbelievable adventure that will take her into the chambers of Thane's still-beating heart—and reveal the very soul of the man.
Review-
This was a very good first novel. The magic is interesting, the characters are good, and the plot was fast. The only problem I had was that Ceony fell in love with Thane in less than an month. I know that in romance novels that is normal or a little long but I wanted it either take longer or not happen at all. I would have loved this to be a friendship without any romance at all. But other than that it was good. The villain could have gone cliche but Holmberg pulls back from that happening. I really like the ending battle. It was very unusual and showed the magic of the world very well. I am curious about where she is going to go next.
I give this book a Four out of Five stars. I get nothing for my review and I borrowed this book from my local library.