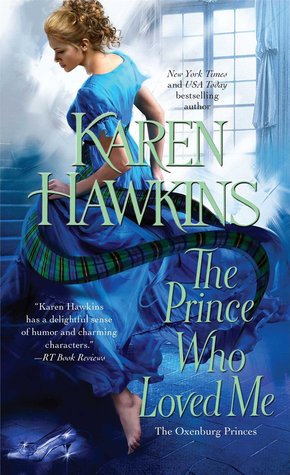 Today's post is on
The Prince Who Loved Me
by Karen Hawkins. It is the first in her
Oxenburg Princes
series. It is 355 pages long and is published by Pocket Books. The cover has the main character on it running out her shoe. There is some mild language, sex and no violence in this book. The intended reader is someone who likes fairy tale retelling, historical romance, and just more romance. The story is told from the third person close perspective of the two main characters. There Be Spoilers Ahead.
From the back of the book-
A handsome, rakish prince who doesn't believe in true love meets a stubborn lass who will settle for nothing less...
In a lighthearted retelling of a classic fairy tale, bestselling author Karen Hawkins gives Cinderella a Scottish twist!
Prince Alexsey Romanovin enjoys his carefree life, flirting—and more—with every lovely lady who crosses his path. But when the interfering Grand Duchess Natasha decides it's time for her grandson to wed, Alexsey finds himself in Scotland, determined to foil her plans. Brainy, bookish, and bespectacled, Bronwyn Murdoch seems the perfect answer—she isn't at all to the duchess' taste.
Living at the beck and call of her ambitious stepmother and social butterfly stepsisters, Bronwyn has little time for a handsome flirt—no matter how intoxicating his kisses are. After all, no spoiled, arrogant prince would be seriously interested in a firm-minded female like herself. So . . . wouldn't it be fun to turn his "game" upside down and prove that an ordinary woman can bring a prince to his knees?
Review- This is a fun love story. It is not really a retelling of Cinderella but it does borrow strongly from the fairy tale. I liked both the hero and the heroine. I believed that they fell in love and I was happy with the ending. But the best part of the at the beginning of each chapter there is an excerpt from the over-the-top romance that the heroine is reading. It was great. The sex was just two scenes and not overly graphic. The hero is not really as much of an ass as the blurb makes him out to be. It is not that he does not want to get married, it is that he does not want to have his life managed by someone else. So he is playing a joke on his aunt but he also does not think that the heroine is serious either. It helps that she sees through him very easily. The writing was fun and charming. If you are a fun of historical romance this one is great.
I give this book a Four out of Five stars. I get nothing for my review and I borrowed this book from my local library.