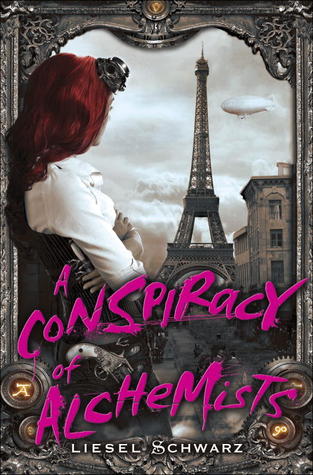 Today's post is on A Conspiracy of Alchemists by Liesel Schwarz. It is the first book in the Chronicles of Light and Shadow. It is 336 pages long and is published by Ballantine Books. The cover has the main character Elle looking out on a steampunk Paris. There is some language, lots of action, and no sex in this book. The intended reader is someone who wants to start reading steampunk, romance, and lots of adventure. The story is told from the third person close of the main character's changing as needed over the course of the story. There Be Spoilers Ahead.
From the dust jacket- In a Golden Age where spark reactors power the airways, and creatures of Light and Shadow walk openly among us, a deadly game of Alchemists and Warlocks has begun.
When an unusual cargo drags airship-pilot Elle Chance into the affairs of the mysterious Mr. Marsh, she must confront her destiny and do everything in power to stop the Alchemists from the unleashing a magical apocalypse.
Discover this trilling new series that transforms elements of urban fantasy and paranormal romance into pure storytelling gold.
Review- This was a fun book and a good place to start if you are looking for something steampunk to read. The main focus is the adventure and there is plenty to have. Elle is a good heroine but she angst over the hero a little too much for my taste. Marsh is a good hero but I think that he can be a little heavy handed from time to time over the course of the story. I think that Schwarz wanted to write a romance but why she did not I do not know. She does make the adventure and the thrill of this world more important but only just. I am curious about where she is going with the overarching story. The writing is solid, the world building is very good, and I am going to be reading this second volume. I may be buying this series to own but I need to see where things are going and even how we are going to get there before I do.
I give this book a Four out of Five stars. I get nothing for my review and I borrowed this book from my local library.