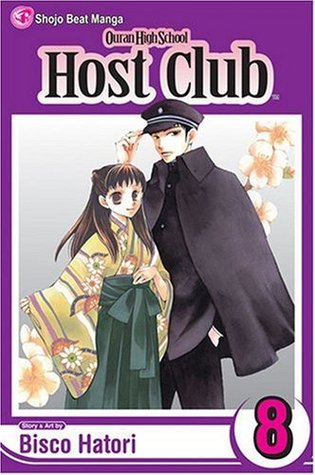 Today's post is on
Ouran High School Host Club volume 8
by Bisco Hatori. It is 184 pages long and is published by Shojo Beat. The cover has Haruhi and Mori on it. As it is the eight in the long running series you need to have read the first seven to understand the story. There is no sex, no language, and no violence in this book. The intended reader likes shojo romance, over-the-top comedy, and good characters. The story is told from Haruhi's perspective. There Be Spoilers Ahead.
From the back of the book-
The first-years in Class 1-A are taking part in a test of courage, where the loser will receive the dubious honor of being dubbed "Best of Cowards." Kazukio Souga, the class president and a fraidy-cat at heart, is happy to be on a team with the levelheaded Haruhi, but will he be able to stomach the antics of his other teammates- the twins Hikaru and Kaoru Hitachiin?
Review-
The first story is funny but the best story in this volume is how Kyoya and Tamaki met. Kyoya was trying to just fit into his father's role for him when he desires so much more. Tamaki sees through him and from there Kyoya is now on his path. I think that story is one of my favorite in the whole series. Kyoya starts out so different from how he really is. He is painting inside the lines but he is using his full abilities. Tamaki calls him in and that is how they become friends. The twins do get their comeuppance with the Black Magic Club in the first story. First humor then serious in this volume. But all good stories.
I give this volume a Five out of Five stars. I get nothing for my review and I bought this manga with my own money.