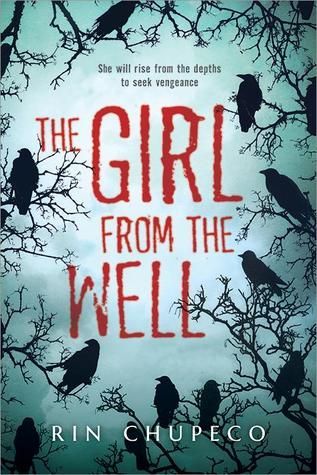 Today's post is on
The Girl from the Well
by Rin Chupeco. It is the first in her
The Girl from the Well
series. It is 265 pages long and is published by Sourcebooks. The cover is blue with black birds around the title. The intended reader is someone who likes horror, Japanese culture, and good writing. There is talk of rape, violence, and language in this book. The story is told very uniquely but the voice is mostly Okiku. There Be Spoilers Ahead.
From the dust jacket-
I am where dead children go. Okiku is a lonely soul. She has wandered the world for centuries, freeing the spirits of the murdered dead. Once a victim herself, she now takes the lives of killers with the vengeance they're due but releasing innocent ghosts from their ethereal tethers does not bring Okiku peace. Still she drifts on.
Such is her existence, until she meets Tark. Evil writhes beneath the moody teen's skin, trapped by a series of intricate tattoos. While the neighbors fear him, Okiku knows the boy is not a monster. Tark needs to be freed from the male valance that clings to him. There's just one problem: the demon dies, so does its host.
Review-
I think a lot about this book. I really enjoyed it. The plot was good and if you are a fan of Asian mythology and lore you will love this. But I have also seen this movie, watched this anime, and read this manga. Only once I let that go I was able to really enjoy this book. Because I really like Asian lore. Asian horror is very different from Western horror. There is less emphasis on sex with the scary stuff. In fact there is no sex at all in this book and that made me very happy. I hate how horrorized sex and sexuality is in western horror. The characters were interesting and I like how religion played a part in the plot. The evil was evil and it was scary. But so was Okiku. She is scary too when as you empathize with her. I think that Tark is the weak part of the story but I can forgive that because he is just the vessel for the story to be told.
I give this book a Five out of Five stars. I get nothing for my review and I borrowed this book from my local library.