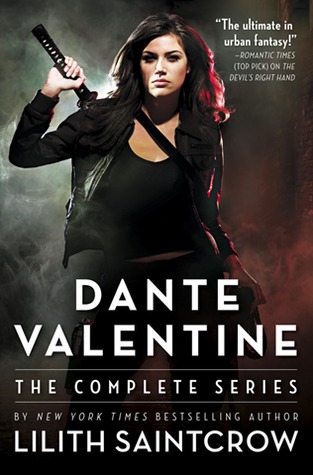 Today's post is on The Devil's Right Hand by Lilith Saintcrow. It is the third in her Dante Valentine series. It is 416 pages long and is published by Orbit books. The intended reader is someone who has read the first two books, likes gritty urban fantasy, and fighting. There is implied sex, language, and lots of violence in this book. The story is told from the first person perspective of Dante. There Be Spoilers Ahead.
From Goodreads- Dante Valentine, Necromancer and bounty hunter, just wants to be left alone. But the Devil has other ideas.
The Prince wants Dante. And he wants her now. And Dante and her lover, Japhrimel, have no choice but to answer the Prince's summons. And to fulfill a seemingly simple task: become the Devil's Right Hand, hunt down four demons that have escaped from Hell, and earn His gratitude.
It's a shame that nothing is ever easy when it comes to the Devil. Because of course, he doesn't tell Dante the whole truth: there is a rebellion brewing in Hell. And there is a good chance that Lucifer is about to be pushed off the throne.
But Dante is getting really tired of being pushed around. And this time, she might be angry enough to take on the Devil himself...
Review- So
Japhrimel really annoyed me in this book. He was pushy, bitchy and all around just annoying. He gets up on his high horse and thinks that because he is a demon- or something- that he knows best. And that means that he does not have to talk to Dante about anything. But other that wanting Dante to kick
Japhrimel to the curb I really liked this volume. We get to see more of the world and get a really good idea about how it works. Other non-human species are introduced and are talked about in some detail. In addition we get to see what the devil was doing with Eve from the first novel. The only problem is years have past and we do not know that at the start of the novel and have to figure it out as we go.
I give this book a Five out of Five stars. I get nothing for my review and I bought this book with my own money.