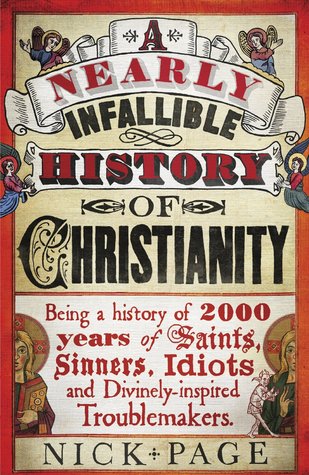 Today's post is on
A Nearly Infallible History of Christianity: Being a history of 2000 years of Saints, Sinners, Idiots, and Divinely0inspired Troublemakers
by Nick Page. It is 456 pages long with notes and it published by Hodder & Stoughton. The cover is like a very fancy church bill. The intended reader is someone who is interested in church history, humor, and good writing. There is no sex, no language, and lots of violence in this book. There Be Spoilers Ahead.
From the back of the book-
Combing in-depth research, searing historical analysis, and cutting-edge guesswork, this is the complete and utter history of the Christian church- as you've never heard it before.
Was Jesus really related to half his disciples? Who invented excommunication? Where do the seven deadly sins really come from? How did the invention of trousers lead to the fall of Rome? And- how come so many Christians across the cneturies seem to have entirely miss the point?
From Abelard to Zwingli, Nick Page leaves no stone unturned to get to the (mostly) truth about the saints and sinners, holiness and heresy that pepper Christian history- not to mention several donkeys, one elephant and a prophetic goose.
Review-
This was a very funny book about a very serious subject. Page goes from the beginnings of the Christian church all the way to present. He pulls no punches about all the things that the church did but with his sense of humor helps to deal with the horrors that happened. The research is solid with good notes if you want to do more yourself. The footnotes are the best and how Page tracks the organ from creation to modern day was hilarious. He gives famous people little boxes where he talks briefly about them but again his humor is all over the descriptions. The chapters are long but he does give good break in them so that it is manageable. I would like to read more by Page.
I give this book a Five out of Five stars. I get nothing for my review and I borrowed this book from my local library.