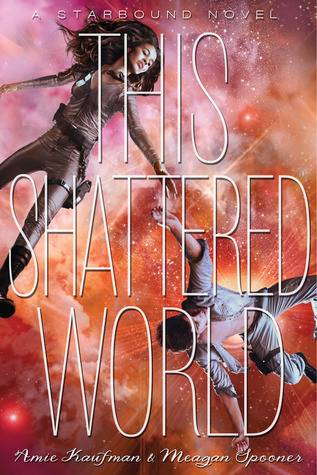 Today's post is on
This Shattered World
by Amie Kaufman & Meagan Spooner. It is the second in their
Starbound
trilogy. It is 390 pages long and is published by Hyperion. The cover is pink with the two main character's on it falling and reaching for each other. The intended reader is someone who has read the first book, likes science fiction and some romance. There is some mild language, no sex, and violence in this book. The story is told from first person of the two main characters changing from chapter to chapter. There Be Spoilers Ahead.
From the dust jacket-
Jubilee Chase and Flynn Cormac should never have met.
Lee is captain of the forces sent to Avon to crush the terraformed planet's rebellious colonists, but she has her own reason for hating the insurgents.
Rebellion is in Flynn's blood. His sister died in the original uprising against the powerful corporate conglomerate that rules Avon with an iron fist. These corporations make their fortunes by terraforming uninhabitable planets across the universe and recruiting colonists to make the planets livable, with the promise of a better life for their children. But they never fulfilled their promise on Avon, and decades later, Flynn is leading the rebellion.
Desperate for any advantage in a bloody and unrelentingly war, Flynn does the only thing that makes sense when he and Lee cross paths: he returns to base with her a prisoner. But as his fellow rebels prepare to execute this tough-talking girl with nerves of steel, Flynn makes another choice that will change him forever. He and Lee escape base together, caught between two sides of a senseless war.
The stunning second installment in Starbound trilogy is an unforgettable story of love and forgiveness in a world torn apart by war.
Review-
For a sequel this book takes about half the novel for it to become clear that it is the second in a trilogy. I do not think that it is a bad thing but it is something that I was thinking about as I was reading it. Maybe because I have not reread the first book so maybe I missed some earlier clues that this book was not just written in the same universe but about the same problems and with some similar characters as the first book. I really liked the hero. At first I did not think that I was going to. But Flynn won me over. I liked Jubilee from the beginning and I liked her all the way through. She is a soldier in an impossible problem and with very little help. I like how Kaufman and Spooner are developing the plot about the whispers. I am a little concerned about this being a trilogy. I think that this universe is so big with so much going on that I am not sure that the story can be told in just one more novel. But Flynn and Jubilee's story is finished and I liked it. I am curious about how this is going to end.
I give this book a Five out of Five stars. I get nothing for my review and I borrowed this book from my local library.