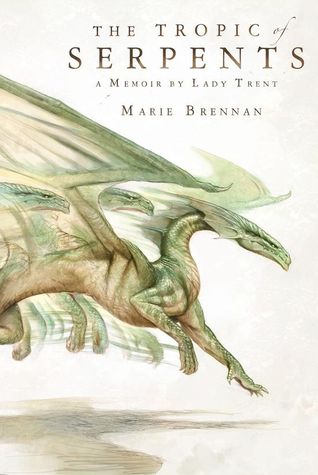 Today's post is on
The Topic of Serpents: A Memoir by Lady Trent
by Marie Brennan. It is the second in her
Lady Trent's Memoirs
series. It is 331 pages long and is published by TOR. As it is the second in this series you need to have read the first one to understand the story. The cover has three green dragons on a white background. The intended reader is someone who loves fantasy, historical fantasy, and good writing. There is no sex, no language, and some mild violence in this book. The story is told in first person by Isabella, Lady Trent, herself. There Be Spoilers Ahead.
From the dust jacket-
Attentive readers of Lady Trent's earlier Memoir,
A Natural History of Dragons
, area already familiar with how a bookish and determined young woman named Isabella first set out on the historic course that would one day lead her to becoming the world's premier dragon naturalist. Now, in this remarkable candid second volume, Lady Trent looks back at the next stage of her illustrious (and occasionally scandalous) career.
Three years after her fateful journey through the forbidding mountains of Vystrana, Mrs. Camherst defies family and convention to embark on an expedition to the war-torn continent of Eriga, home of such exotic draconian species as the grass-dwelling snakes of the savannah, arboreal snakes, and, most elusive of all, the legendary swamp-wyrms of the tropics.
The expedition is not an easy one. Accompanied by both an old associate and a runway heiress, Isabella must brave oppressive heat, merciless fevers, palace intrigues, gossip, and other hazards in order to satisfy her boundless fascination with all things draconian, even if it means venturing deep into the forbidden jungles known as the Green Hell... where her courage, resourcefulness, and scientific curiosity will be tested as never before.
Review-
I loved this book. The continuing adventures of Isabella is very good. This was a fun, engaging read about a character that I really like. The plot has more politics but it does not take away from the dragons. Isabella just becomes more entrenched in her lifelong passion for dragons. I love how dragons are mixed with Victorian ideals of womanhood. If I had been born in that time I would have found them to be just as annoying as Isabella does. She really does not care what others say or think about her, as long as she can have her dragons. The only thing that really annoys me about these books is that I have to guess what the corresponding country or nation in our world is and that is not easy. Sometimes I thought that Eriga was Africa then at other times I was sure that it was some kind of Arabian place. In the end none of that matters of course. I love dragons too much to care about politics either.
I give this book a Five out of Five stars. I get nothing for my review and I bought this book with my own money.