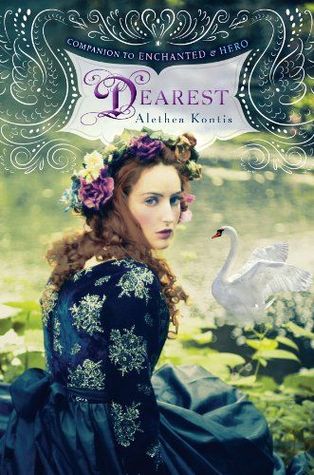 Today's post is on
Dearest
by Alethea Kontis. It is the third in her
Woodcutter Sisters
series. It is 282 pages long and is published by Houghton Mifflin Harcourt. The cover has Friday on it with a swan in the background. The intended reader is someone who has read the first two books and likes fairy tale retellings. There is no language, no sex, and only a little violence in this book. The story is told from the third person close moving from Friday to Tristan changing from chapter to chapter. There Be Spoilers Ahead.
From the dust jacket-
Friday has met her destiny and he is gorgeous. If only he weren't a swan...
Friday Woodcutter, the apprentice seamstress with the generous heart and the patchwork skirts, loves and is loved by all. After her sister Saturday conjures up an accidental ocean in their backyard, Friday is found washed up on the shore and is taken to the palace of their youngest sister, Sunday, which is already brimming with refugees. There, Friday recovers by doing with she does best: tending to the children.
Yet Fate can never resist meddling with the Woodcutter family. When Friday stumbles upon seven sleeping brothers in the highest tower of the palace, she takes one look at Tristan and knows he's her future. But the brothers are cursed to be swans by day, a hex that their mute sister is trying desperately to undo. Can Friday's unique magic somehow break the spell?
Review-
I really like the
Woodcutter Sisters
series. I love fairy tale retellings and these are great ones. Friday is loving and giving so to her all problems can be faced with love and mercy. I really liked that about her. She stayed true to herself, even when she had to do something 'bad' to save everyone. The story moves very quickly, just like the first two. Everything happens within about two weeks. I liked the hero, Tristan. He was not annoying. That is very important to me. He was driven to stop the bad guy but not at any cost and when Friday did what she had to do, he does not think any less of her. Kontis is a very beautiful writer. Her pose is easy to read but not simple. She is writing for teens and adults and her language choices reflect that. I cannot wait to read Thursday's story next year.
I give this book a Five out of Five stars. I get nothing for my review and I borrowed this book from my local library.