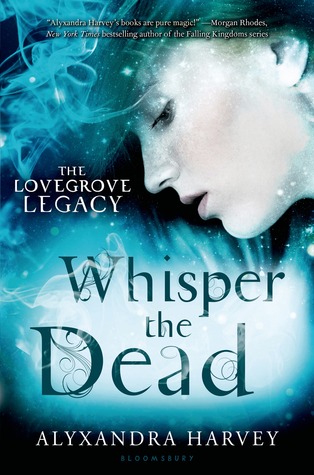 Today's post is on Whisper the Dead by Alyxandra Harvey. It is the second in her The Lovegrove Legacy.

It is 397 pages long and is published by Bloomsbury. The cover has one of the main character's one it breathing out of the title. The intended reader is young adult but this is very well written regency era so if you like that time period try this series. There is no sex, mild language, and some violence in this book.

There Be Spoilers Ahead.
From the dust jacket- Gretchen Thorn is a whisperer, which means she often feels like her head is going to explode. The constant whispers of witches' spells in her ears may help her to know when one of her own spells is going wrong, but the incessant buzzing and pain it causes hardly seem worth the trouble. And being a debutant is not any more pleasant, as she's forced to act like a proper lady, donning ball gowns and having good manners, when she much prefers wearing trousers and speaking her mind.
But when something evil once again begins to menace Mayfair, Gretchen must find a way to master her gifts. Along with her cousins, Emma and Penelope; a madcap named Moira; and the icy yet irresistible Tobias Lawless, Gretchen will face deadly threats and unimaginable loss in the hopes of preventing a terrible power from rising again.
Review- The second in this series is just as good as the first. We follow Gretchen mostly in this book. She handles her new magical powers pretty well I think. We get more world building, character development, and more bad guys. One of the bad guys does not get explained and I want to know why he would do what he does in the book. If the main bad guy is magically controlling him, I would have liked to know that. That is my only complaint about the plot. Everything else is fun, witty, and good writing.

The cliffhanger is good and did not irritate me. I even liked the new love interest. I do want him and Gretchen to work together and have a happily ever after. Pretty unusual for me.
I give this book a Five out of Five stars. I get nothing for my review and I borrowed this book from my local library.