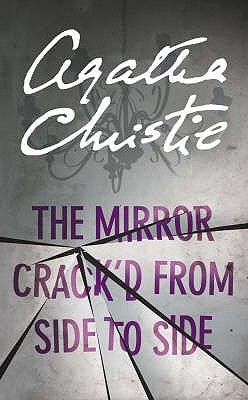 Today's post is on
The Mirror Crack'd from Side to Side
by Agatha Christie. It is the ninth in her
Miss Marple
series but you do not have to read them in order to understand the story or the characters. The cover is broken mirror with the title in the center of the crack. The intended reader is someone who likes mysteries, well written books, and interesting main characters. There is no sex, no language, and no violence in this book. The story is told from third person close of the main characters moving from one to another over the course of the book. There Be Spoilers Ahead.
From the dust jacket-
What was it that Marina Gregg, the famous film actress, saw just before a murder was committed in her house? What or who caused her expression to change so violently that one observer called it "a look of doom"?
A few minutes later a body lay dead in Marina's large house- the second time a victim of willful murder has been discovered there.
Review-
Another brilliant Christie mystery. The why of the murder is not as cold-blooded as they normally are but it cold enough. One interesting thing about this novel is that Miss Marple is mostly house bound in it. She is getting over being very sick and has people taking care of her. So most of the information she is getting is second or third hand. In the end she goes to confront the killer herself but other than that she is outside looking in. I had no idea who the killer was until the revealing so it was surprising and the killer's reasoning was pitiful. This killer is one of the few who I really pitied. Because what drove the killer in life and to commit murder was very sad but it costs the killer so much in the end. Interesting look on blaming or hating others in the end just kills yourself.
I give this book a Five out of Five stars. I get nothing for my review and I borrowed this book from my local library.