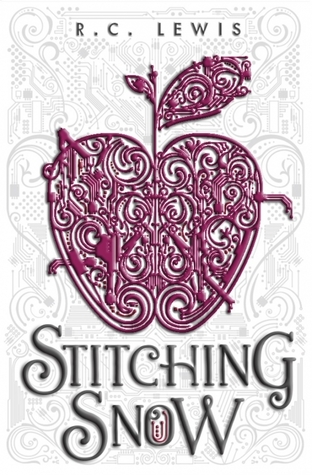 Today's post is on Stitching Snow by R. C. Lewis. It is 328 pages long and is published by Hyperion. It is a stand alone book. The cover is white with a red apple that looks like it is made of circuits. The intended reader is young adult. There is no sex, some mild language, and violence in this book. The story is told from the first person perspective of the main character. There Be Spoilers Ahead.
From the dust jacket-
Princess Snow is missing.
Her home planet, once known for lush landscapes, is now filled with violence, fear, and corruption at the hands of King Matthias and his new wife as they attempt to punish the princess's captors. The king will stop at nothing to get his beloved daughter back- but that's assuming she wants to return at all.
Essie has grown used to being cold. Temperatures on the planet Thanda are always sub-zero, and she fills her days with coding and repairs for the seven loyal drones that run the local mine.
When a mysterious young man named Dane crash-lands near her home, Essie agrees to help the pilot repair his ship. But soon she realizes that Dane's arrival was far from accidental, and she's pulled into the heart of a war she's risked everything to avoid.
Review-
This is a strong debut by the author. The plot, characters, and setting are good. The seven loyal drones are not really important to the story, only one is. Essie is an interesting way to change Snow White. But I did not like the hero. He did not really do anything to make me dislike me but I did not want Essie to fall in love with him. I wanted her to remain strong and face her enemies without a man or boy in this case. He was little high-handed and he changed his mind about things too much. I think that I would have liked him better if he had stuck to something over the course of the book. If Dane was not in the book I would have liked it better. Have it be Essie and her drones working to stop the evil king and queen. She survived on her own for years, survived fights and attacks. Essie is more than enough to carry this story herself.
I give this book a Three out of Five stars. I get nothing for my review and I borrowed this book from my local library.