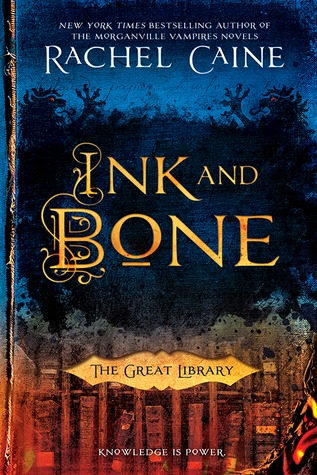 Today's post is on
Ink and Bone
by Rachel Caine. It is the first in her
Great Library
series. It is 368 pages long and is published by New American Library. It cover is like a tapestry with a red-orange city of bottom and the sky above. The intended reader is young adult, likes fantasy, and good writing. There is no sex, some language, and violence in this book. The story is told from the third person close of the main character. There Be Spoilers Ahead.
From the back of the book-
Ruthless and supremely powerful, the Great Library is now a presence in every major city, governing the flow of knowledge to the masses. Alchemy allows the Library to deliver the content of the greatest works of history instantly- but the personal ownership of books is expressly forbidden.
Jess Brightwell believes in the value of the Library, but the majority of his knowledge comes from illegal books obtained by his family, who are involved in the thriving black market. Jess has been sent to be his family's spy, but his loyalties are tested in the final months of training to enter the Library's service.
When his friend inadvertently commits heresy by creating a device that could change the world, Jess discovers that those who control the Great Library believe knowledge is more valuable than any human life- and soon both heretics and books will burn...
Review-
This was a very good book with some flaws. The story and the world itself are interesting but the blurb on the back would make you think that it is all about the invention but that does not come into play until the last fourth of the book. You see it coming because of notes between chapters but really does not matter to that overall story. The weak points are the villains. The Library itself and their teacher. I call their teacher a villain because of the way that he treats Jess. I do not really understand what he thinks he is doing but he is being a plot piece. I know that his reasons with be revealed but really he was just too much. The Library is a shadow in the background without any reason but control and destroy. Maybe I am asking too much of a first novel in a new series but I really wanted more from the villains. That said I will be reading the next one but good job Caine.
I give this book a Four out of Five stars. I was given this book by Ace/Roc publisher in exchange for an honest review.