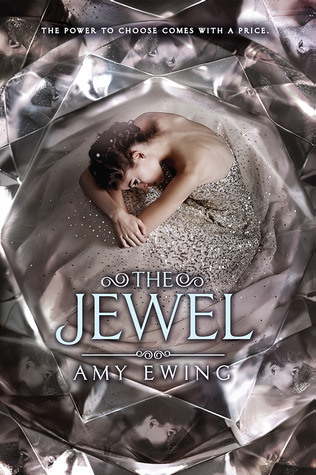 Today's post is on The Jewel by Amy Ewing. It is the first in her The Lone City series. It is 358 pages long and is published by Harper Teen. The cover is a light purple with the main character curled up in the center in a glittery dress. The intended reader is young adult who likes dystopian stories but I think if you are an adult who likes those things then you will like this story too. There is some language, talk of sex, violence, and some other themes that could makes some uncomfortable; so warning for strong adult-like themes. The story is told from the first person perspective of the main character Violet. There Be Spoilers Ahead.
From the dust jacket- The Jewel means wealth. The Jewel means beauty. The Jewel means royalty.
But for girls like Violet, the Jewel means servitude.
Violet, born and raised in the Marsh, has been trained to work for royalty. And she quickly learns the brutal truths that lies beneath the Jewel's glittering façade; the cruelty, backstabbing, and hidden violence that have become the royal way of life.
Violet must accept the ugly realities of her existence… and try to stay alive. When an unlikely friendship offers her an opportunity she never dreamed possible, Violet clings to the hope of a better life- until a forbidden romance changes everything. Suddenly, Violet finds herself in a different kind of danger, one that may cost her more than she bargained for.
Review- This blurb says nothing about the real story at all. Violet is not working for royal; she is to be used to birth one child and then be killed. She, and all the other girls like her, are brood mares for the upper class. That is a very intense and serious theme add in some abuse and you get something that is going to make some people very uncomfortable. Ewing writes a good story about slavery and at times I was uncomfortable with this book. Ewing takes the reader into a dark place with little to no light and she leaves Violet there until the next book. The world building is tightly controlled because the world is tightly controlled around Violet. She does not really know anything about her world or anyone else's because those in power do not want her to know. It was very claustrophobic. If you are looking for a high action or high energy dystopian read then this is not it but if you want something that is going to make you think about how really living in a dystopian might be then I recommend this book.
I give this book a Four out of Five stars. I get nothing for my review and I borrowed this book from my local library.