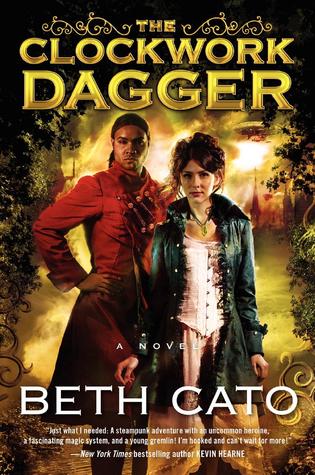 Today's post is on The Clockwork Dagger by Beth Cato. It is the first in her Clockwork Dagger Duology. It is 358 pages long and is published by Harper Voyager. The cover has the two main character's looking cool and steampunky on it. There is some language, no sex, and violence in this book. The intended reader is someone who likes steampunk, fantasy, good characters, and interesting magic. The story is told from the third person close of the main character Octavia. There Be Spoilers Ahead.
From the back of the book- Orphaned as a child, Octavia Leander was doomed to grow up on the streets until Miss Percival saved her. Gifted with incredible powers, the young healer is about to embark on her first mission, visiting suffering cities in the far reaches of the war-scarred realm. But the airship on which she is traveling is plagued by a series of strange and disturbing occurrences, including murder, and Octavia herself is threated.
Suddenly, she is caught up in a flurry of intrigue: the dashingly attractive steward may be one of the infamous Clockwork Daggers- the Queen's spies and assassins- and her cabinmate harbors disturbing secrets. But the danger is only beginning, for Octavia discovers that the deadly conspiracy may reach the crown itself.
Review- This was a great read. I had just so much fun with it. The writing is good, the world-building is solid, the dialog is sharp, and the heroine is not stupid. The world-building is slow but I think that is a good thing. As we travel with Octavia we learn more about the world. The reader is not overwhelmed with everything about the world all at once. We learn about Octavia and her role as a healer. We learn about the war. We learn as Cato makes the world very real. I loved Octavia as a healer. She was a good one and not useless. She has brains and she uses them. The love story is important to the overall story but I did not feel that is over shadowed it. The hero is pretty good too. He is a veteran of the long standing war but he still believes in good and good things. He believes in Octavia and he trusts her. He does so much right. I am really looking forward to the next book and I will be reading more of Ms. Cato as she writes it. I recommend this book.
I give this book a Five out of Five stars. I get nothing for my review and I borrowed this book from my local library but I will be buying it when I get paid next.