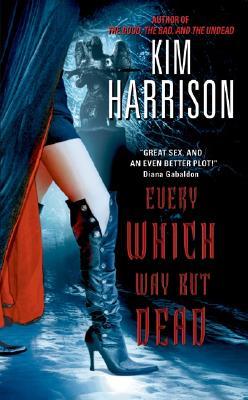 Today's post is on
Every Which Way but Dead
by Kim Harrison. It is the third in her
The Hallows
series and as such you need to have read the first two to understand the story. It is 501 pages long and is published by eos. The intended reader is someone who likes gritty urban fantasy, strong female leads, and lots of tense plot. The cover has Rachel's leg in a nice nice boot standing in what I think is the Ever After. There is language, sex, and lots of violence in this book. Adults only is for the best. The story is told from the first person perspective of Rachel. There Be Spoilers Ahead.
From the back of the book-
There's no witch in Cincinnati tougher, sexier, or more screwed up than bounty hunter Rachel Morgan , who's already put her love life and her soul in dire jeopardy through her determined efforts to bring criminal night creatures to justice.
Between "runs", she has her hands full fending off the attentions of her blood-drinking partner, keeping a deadly secret from her backup, and resisting a hot new vamp suitor.
Rachel must also take a stand in the war that's raging in the city's underworld, since she helped put away its former vampire kingpin- and made a deal with a powerful demon to so that could cost her an eternity of pain, torment, and degradation.
And now her dark "master" is coming to collect his due.
Review-
This is another good volume in
The Hallows
series. Rachel gets herself into and out of some pretty bad stuff. She had to deal with Al and try not to get taken by him in addition to everything else that is going on with the plot. Rachel is having a hard time of it but she gets some answers. She finds out more about her father's death, she learns more about what she can really do magic wise, and she gets her heart broken. The one thing that Harrison did that I felt was not up to par was the way that she handled Nick. I did not like the character from the beginning but I do not like character's just being a plot device and I really think that is all that Nick was. Harrison is an excellent writer and I think that she could have handled that a little better. Nick is gone now and I am happy with that. Rachel's interactions with the other character's is becoming more interesting because I think that they are starting to get through her walls. Ivy is still dealing with the bad stuff that happened to her in the last book but I think that she is healing. I would have liked to explored it more but that is okay. I recommend this series.
I give this book a Four out of Five stars. I get nothing for my review and I bought this book with my own money.