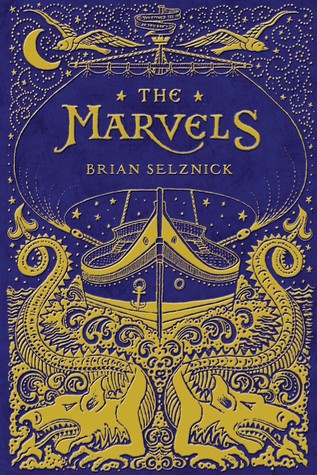 Today's post is on
The Marvels
by Brian Selznick. It is 647 pages long and is published by Scholastic Press. The cover is a beautiful blue and gold with a ship on it with the title on the sails. The intended reader is someone who likes stories told in unusual ways, good art, and touching plots. There is no language, no sex, and no violence in this book. The story is in both pictures and words over the course of time. There Be Spoilers Ahead.
From the dust jacket-
The journey begins on a ship at sea in 1766, with a boy named Billy Marvel. After surviving a shipwreck, he finds work in a London theatre. There, his family flourishes for generations as brilliant actors until 1900, when young Leontes Marvel is banished from the stage.Nearly a century later, Joseph Jervis runs away from school and seeks refuge with an uncle in London. Albert Nightgale's strange, beautiful house, with its mysterious portraits and ghostly presences, captivates Joseph and leads him on a search for clues about the house, his family, and the past.
Review-
Another beautiful and touching story from Selznick. Again he touches on what it is to family and what that looks like. The way the two stories are married is very interesting, even after you discover what is really going on. In addition to the subtle nod to human rights in all its forms. It is harder for me to say which I liked better the picture part of the book or the written half. There are so many surprises in this tale that I do not want to give any of them away. I look forward to Selznick's next book.
I give this book a Five out of Five stars. I get nothing for my review and I borrowed this book from my local library.