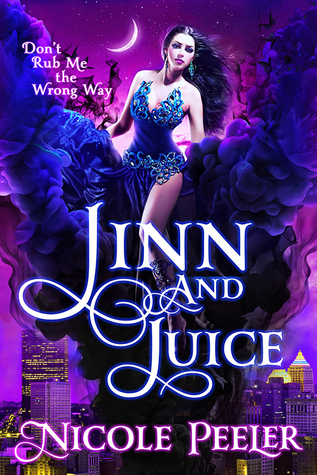 Today's post is on
Jinn and Juice
by Nicole Peeler. It is the first in her
The Jinni
series. It is 338 pages long and is published by Orbit. The cover is a deep purple with the main character in the center looking beautiful and powerful. The intended reader likes urban fantasy, interesting mythology, and witty dialog. There is some language, implied sexuality, and violence in this book. The story is told from first person perspective of the main character. There Be Spoilers Ahead.
From the back of the book-
Meet Lyla, a Jinn, Belly Dancer, and the hottest new Urban Fantasy heroine in town.
To escape an arranged marriage, a jinni granted Lyla her wish: to live a thousand years as a jinni herself.
Now, her servitude is ending, but there are a few obstacles in Lyla's path to freedom. A Magi intent on binding her again, a jinni bent on vengeance, and not to mention the nightmare from her past that threatens to make her curse permanent- and claim her very soul.
Review- A fun, light-hearted urban fantasy and a great new series. I read this book in just two sittings. It is easy to read, with good characters, and an excellent world. But the blurb is so very wrong and bad. Lyla did not want to be made into a jinni. She wanted to become a son to inherit everything from her father. The Magi binding her just wants to save a young girl who has been kidnapped. The nightmare and the jinni bent on vengeance are the same being. So now that you have a better idea of the plot, it is a great read. I liked all the characters but Lyla's best friend did get a little on my nerves. She just does not really understand how dangerous things for Lyla really are. Her master is dense but he just discovered this world a month ago. I am curious about where Peeler is going to from here.
I give this book a Five out of Five stars. I get nothing for my review and I borrowed this book from my local library.