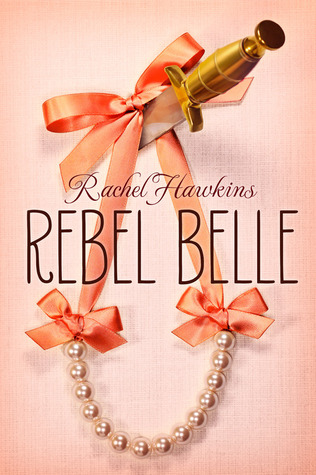 Today's post is on
Rebel Belle
by Rachel Hawkins. It is the first in her
Rebel Belle
trilogy. It is 345 pages long and is published by G. P. Putnam's Sons. The cover is pink with a knife holding up a string of pearls. The intended reader is someone who likes young adult, urban fantasy, and clever stories. There is no language, no sex, and mild violence in this book. The story is told from the first person perspective of the main character Harper. There Be Spoilers Ahead.
From the dust jacket-
Harper Price, peerless Southern belle, was born ready for a Homecoming tiara. But after a strange run-in at the dance imbues her with incredible abilities, Harper's destiny takes a turn for the seriously weird. She becomes a Paladin, one of an ancient line of guardians with agility, super strength and lethal fighting instincts.
Just when life can't get any more disastrously crazy, Harper finds out who she's charged to protect: David Stark, school reporter, subject of a mysterious prophecy and possibly Harper's least favorite person. But things get complicated when Harper starts falling for him—and discovers that David's own fate could very well be to destroy Earth.
With snappy banter, cotillion dresses, non-stop action and a touch of magic, this new young adult series from bestseller Rachel Hawkins is going to make y'all beg for more.
Review- I grew up watching Buffy the Vampire Slayer and this strongly reminded me of that. So I, in general, enjoyed this book very much. My only problem was that I saw some major plot points coming from a mile away. But that said Harper is very likable, the story was fast-paced and fun, and I can curious about where Hawkins is going with this story. The world-building is really good and as someone from the south I really enjoyed it.The Oracle, Paladin, and Mage dynamics were interesting and made for some fun surprises. It was also quite funny. All the teenage drama with someone who knows that there is more to life but does not to deal with it. I liked all the characters and I look forward to reading the next one.
I give this book a Four out of Five stars. I get nothing for my review and I borrowed this book from my local library.