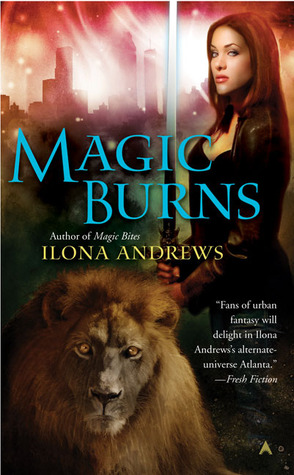 Today's post is on
Magic Burns
by Ilona Andrews. It is the second in her
Kate Daniels
series. It is 260 pages long and is published by Ace Fantasy. The cover has Kate and Curran on it with a magic flare in the background. As it the second in a series you need to have read the first one to understand the story. The intended reader is read the first one, likes urban fantasy, and salty heroines. There is language, no sex, and lots of violence in this book. The story is told from Kate's first person perspective. There Be Spoilers Ahead.
From the back of the book-
Down in Atlanta, tempers – and temperatures – are about to flare…
As a mercenary who cleans up after magic gone wrong, Kate Daniels has seen her share of occupational hazards. Normally, waves of paranormal energy ebb and flow across Atlanta like a tide. But once every seven years, a flare comes, a time when magic runs rampant. Now Kate's going to have to deal with problems on a much bigger scale: a divine one.
When Kate sets out to retrieve a set of stolen maps for the Pack, Atlanta's paramilitary clan of shapeshifters, she quickly realizes much more at stake. During a flare, gods and goddesses can manifest – and battle for power. The stolen maps are only the opening gambit in an epic tug-of-war between two gods hoping for rebirth. And if Kate can't stop the cataclysmic showdown, the city may not survive…
Review- I really enjoyed this novel. The story was interesting, I like Kate, and the world is great. I like Kate Daniels and I know that many other readers do not feel the same way. She is an interesting character. Maybe I just trust the authors but I think that she is believable. The plot was very interesting and so much world building was done in this novel. We get to see more of the way things work and more of different kinds of magic. Kate's magic is different but I really felt that I got that more at the end of this novel than from the first one. Witches and shamans are more explored in this novel but whatever Kate's new ward is not explained. Curran was a little funny in this one but he did not mean to be. I like the way that Kate handles him. Yes it could get her killed but she is not going to be afraid of him. I am looking forward to reading the next one.
I give this book a Five out of Five stars. I get nothing for my review and I bought this book with my own money.