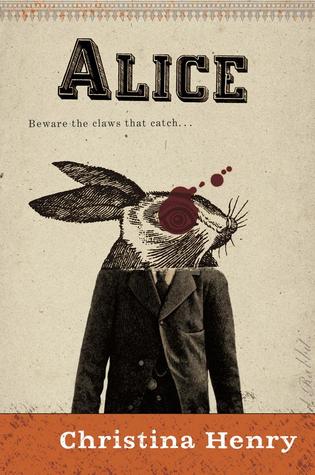 Today's post is on
Alice
by Christina Henry. It is the first in her
Alice
series. It is 291 pages long and is published by Ace. The cover is brown with a white rabbit head with a blood spot over its eye. The intended reader is someone who likes dark stories, good writing, and a little madness. There is language, rape, and lots of violence in this book; be warned. The story is told from third person close perspective of Alice. There Be Spoilers Ahead.
From the back of the book- A mind-bending new novel inspired by the twisted and wondrous works of Lewis Carroll...
In a warren of crumbling buildings and desperate people called the Old City, there stands a hospital with cinderblock walls which echo the screams of the poor souls inside.
In the hospital, there is a woman. Her hair, once blond, hangs in tangles down her back. She doesn't remember why she's in such a terrible place. Just a tea party long ago, and long ears, and blood…
Then, one night, a fire at the hospital gives the woman a chance to escape, tumbling out of the hole that imprisoned her, leaving her free to uncover the truth about what happened to her all those years ago.
Only something else has escaped with her. Something dark. Something powerful.
And to find the truth, she will have to track this beast to the very heart of the Old City, where the rabbit waits for his Alice.
Review- This is an excellent horror sequel to Alice in Wonderland. This world is very scary. I felt Alice's fear of not only what happened to her but what was going on around her. I did not think that she was weak because of this fear. That said I do like what Henry did with the original source book and her own take on it. Alice is someone who I liked as the main character. I feel that she she did what she had to do. I do wish that we had a chance to her from her family why they put her in the hospital; Alice has her beliefs but I am not sure that is really why. In addition the blurb makes you think that the Rabbit is the real villain. He is not, he is in the story for about ten pages then we get back to the real villain. I am very curious about where is Henry is going to go from here.
I give this book a Four out of Five stars. I was given this book by Ace/ROC in exchange for an honest review.