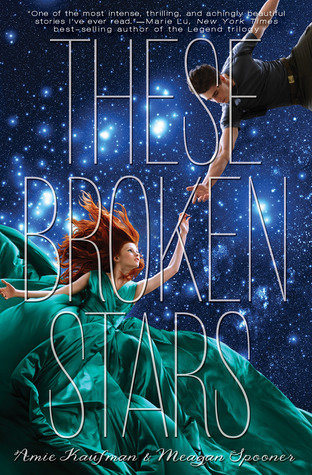 Today's post is on These Broken Stars by Amie Kaufman and Meagan Spooner. It is the first in the Starbound trilogy. It is 374 pages long and it is published by Hyperion. The cover has the two main characters reaching for each other as they fall through space. The intended reader is young adult but I think that adults would enjoy this book too. There is implied sex, implied strong language, and no violence in this book. The story is told from the first person perspective of the two main characters moving from chapter to chapter. There Be Spoilers Ahead.
From the dust jacket- It's a night like any other on board the Icarus. Then, catastrophe strikes: the massive luxury spaceliner is yanked out of hyperspace and plummets into the nearest planet. Lilac LaRoux and Tarver Merendsen survive. And they seem to be alone.
Lilac is the daughter of the richest man in the universe. Tarver comes from nothing, a young war hero who learned long ago that girls like Lilac are more trouble then they're worth. But with only each other to rely on, Lilac and Tarver must work together, making a tortuous journey across the eerie, deserted terrain to seek help.
Then, against all odds, Lilac and Tarver find a strange blessing in the tragedy that has thrown them into each other's arms. Without the hope of a future together in their own world, they begin to wonder- would they be better off staying here forever?
Everything changes when they uncover the truth behind the chilling whispers that haunt their every step. Lilac and Tarver may find a way off this planet. But they won't be the people who landed on it.
Review- This was a really good read. I enjoyed the characters and I found their interactions to be very real. They argue for most of the book but they both know that the fights are about keeping the will to live. They are the only humans on this planet. I like that the authors play up the sense of isolation that they experience; especially when Lilac starts to hear and see things. Kaufman and Spooner play that very well. I guessed that she was not just seeing things but they hold that very close to their chest. In fact I would not not have been surprised if Lilac just did have head trauma from the crash. Lilac is a spoiled rich girl but she has other interests like how to make technology work. Tarver is a war hero with the desire to get home to his parents. Both are real, interesting, and likable. I look forward to where the authors are going with this series. Because some stuff happens that I do not think that anyone would see coming.
I give this book a Five out of Five stars. I get nothing for my review and I borrowed this book from my local library.