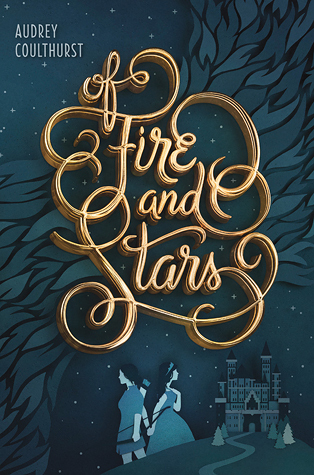 Today's post is on
Of Fire and Stars
by Audrey Coulthurst. It is 389 pages long and is published by Balzer + Bray. The cover is dark blue with the title in gold and two female figures on the bottom in the light blue. It is a stand alone novel. The intended reader is older young adult, likes fantasy, strong women, and same sex love stories. There is mild foul language, sex, and mild violence in this book. The story is told from the third person close of the two main characters.
From the dust jacket-
Betrothed since childhood to the prince of Mynaria, Princess Dennaleia has always known what her future holds. Her marriage will seal the alliance between Mynaria and her homeland, protecting her people from other hostile lands. But Denna has a secret. She possesses an Affinity for fire—a dangerous gift for the future queen of a kingdom where magic is forbidden.
Now, Denna must learn the ways of her new home while trying to hide her growing magic. To make matters worse, she must learn to ride Mynaria's formidable warhorses—and her teacher is the person who intimidates her most, the prickly and unconventional Princess Amaranthine—called Mare—the sister of her betrothed.
When a shocking assassination leaves the kingdom reeling, Mare and Denna reluctantly join forces to search for the culprit. As the two become closer, Mare is surprised by Denna's intelligence and bravery, while Denna is drawn to Mare's independent streak. And soon their friendship is threatening to blossom into something more.
But with dangerous conflict brewing that makes the alliance more important than ever, acting on their feelings could be deadly. Forced to choose between their duty and their hearts, Mare and Denna must find a way to save their kingdoms—and each other.
Review- This is a very solid first novel. Good world building with interest characters and magic system. I guessed the villain very quickly but I did not read this for the villain. You read this book for Mare and Denna. Two young women who just want to find what they can offer the world. They find each other and over time go from friends to lovers, it felt very natural over the course of the book. There is a sex scene in this book, it is not very graphic but you know what is happening. Their love story is very important to the plot but everything else would have happened even if they had not fallen in love. The nations of the world fear magic users and Denna has a very powerful gift. Mare would still be dealing with not really having a place in her own home. They still would have worked together to stop a needless war. But the love story adds something special to the mix. It gives them something to really fight for and that saves the day in the end.
I give this volume a Four out of Five stars. I get nothing for my review and I borrowed this book from my local library.