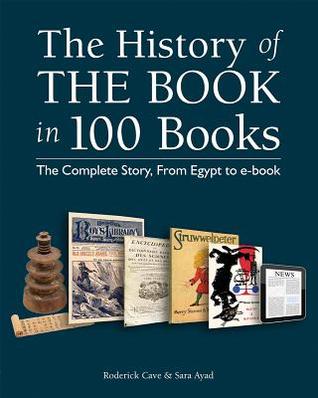 Today' post is on
The History of THE BOOK in 100 Books: The Complete Story, From Egypt to e-book
by Roderick Cave & Sara Ayad. The cover is black with different kinds of books on it from scrolls to an e-reader. The intended reader is someone who is interested in history, human development, and books. There is no language, no sex, and no violence in this book. The story is told in sections as technology evolved. There Be Spoilers Ahead.
From the dust jacket-
From inscriptions on tombs to the first writings on papyrus; from scrolls to the first bound codex books in Roman times; from exclusive and expensive handscribed books to the creation of moveable type and the invention of printing for the masses; and from the printed book to the e-book reader and beyond- discover
The History of THE BOOK in 100 Books.
Each of the 100 books chosen has played a critical role in the development of books in all their forms and with all that they bring: literacy, numeracy, technological progress and the expansion of scientific knowledge, religion, political theory, oppression, liberation, entertainment, and more.
The History of THE BOOK in 100 Books
tells a story tat is fascinating and enlightening. It is populated with prehistoric communities and ancient civilizations; artists and scholars; authors and poets; inventors, scientists and mathematicians; monks and scribes; explores and missionaries- there is no particular job description behind the evolution of the books.
The 100 books originate from around the world and cover subjects as diverse as religion, science, crime, travel and fashion. Classic examples, such as Gutenberg's 42-line Bible and the
Book of Kells
, are included alongside less well-known titles that have been selected to represent a stage in the history of book production or because of their content or impact. Each entry is placed in its specific historical context and includes connections to books across cultures and periods of time.
Review-
This was a fun and interesting look at the evolution of the book. The authors take us from the first things that were used as books all the way to the current ebooks. They cover books of all kind from all over the world. From the palm leaf books of south Indochina to forgotten penny dreadfuls of the 19th century. The research is good, easy to follow and easy to find more if you want to. I really liked seeing what other countries were doing to make and preserve books in the pre-Gutenberg time. The writing was good, with little witticisms from the authors that added to the overall enjoyment of the journey. One thing that they did that I really enjoyed is that they mostly used books that were not very famous. The Book of Kells and one of the original Gutenberg bibles are the one really famous books in this piece. All of the rest are lesser or unknown books.
I give this book a Five out of Five stars. I get nothing for my review and I borrowed this book from my local library.