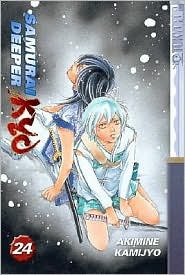 Today's post is on Samurai Deeper Kyo volume 24 by Akimine Kamijyo. It is published by Tokyopop. As it is the 24

th

in the series you need to have read the first 23 to get the story. The cover has Sasuke and Yukimura on it looking cool. There is some language, no sex, and lots of violence in this series and volume. The story is told from third person god point of view with character thoughts added in for character and plot development. The intended reader is someone who loves samurai manga, strange love stories, and cool guys with red eyes. Older teens and adults only for the best. There Be Spoilers Ahead.
From the back of the book- Akari battles Mekira, a wielder of an ancient Mibu weapon that can turn enemies to stone. Enraged by Mekira's treatment of Santera, Akari reveals a secret of his own! Meanwhile, Sasuke and Izumo travel to the peak of Mt. Fuji, where Kotaro stands in their way- and Kotaro and Sasuke begin a battle that may shatter their friendship forever.
Review- This is a fun volume with Sasuke taking the limelight. He takes the stage and he shines. We get some great fights, plot development, and some more questions about what the Mibu are trying to do. Sasuke is a 'rare breed' and now people want to eat him. He does not get eaten but he does give us some new moves and he reveals his own demon eyes. The new questions about the Mibu are about what they were trying to do when they created Sasuke. When he gets really mad in his fight he 'awakens' to his demon eyes and aura. Very badass but again we do not really learn anything about the big evil plot. When it comes to this manga I have too much tolerance and love that I do not care that Kamijyo just keeps giving me beautiful red eyes and new questions but little resolutions. But one plot thread that she finishes this volume is what really happened between Sasuke and Kotaro. So I guess that I can be happy with that and continue to love my series.
I give this volume a Five out of Five stars. I get nothing for my review and I bought this manga with my own money.