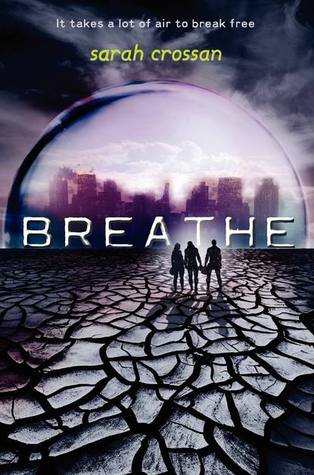 Today's post is on Breathe by Sarah Crossan. It is the first in a duology. It is 371 pages long and is published by Greenwillow. The cover has three figures in shadow standing in front of a huge bubble with the outline of a city in it and dracked bear earth under it and them. The intended reader is young adult but I think that if you like YA books and stories about environmentalism you would enjoy this one. There is no language, no sex, and some mild violence in this book; readers 13 and up should be fine. The story is told in first person close moving from of the main characters to the next over the course of the book. There Be Spoilers Ahead.
From the dust jacket- Inhale. Exhale.
Breath.
Breathe.
Breath…
The world is dead.
The survivors live under the protection of Breathe, the corporation that found a way to manufacture oxygen-rich air.
Alina
has been stealing for a long time. She's a little jittery, but not terrified. All she knows is that she's never been caught before. If she's careful, it'll be easy. If's she's careful.
Quinn
should be worried about Alina and a bit afraid for himself, too, but even thought this is dangerous, it's also the most interesting thing to happen to him in ages. It isn't every day that the girl of your dreams asks you to rescue her.
Bea
wants to tell him that none of this is fair; they'd planned a trip together, the two of them, and she'd hoped he'd discover her out here, not another girl.
And as they walk into the Outlands with two days' worth of oxygen in their tanks, everything they believe will be shattered. Will they be able to make it back? Will they want to?
Review- I enjoyed this novel. It was light, easy to read, and fun. I know that the topic was very heavy but I just get into that part of it. The characters were not bad and they had some growth over the course of the story. The one thing that I really did not like was the Resistance. They were not good people. They treat anyone who is not one of them for any reason, including not being given the chance to join, very badly. They tormented one old woman who they had no real reason to do that to. The reason was the old woman was at one time part of Breathe but she was not now and had not been for a very long time. I think that I can see where Crossan is going with that but it was not fun and it made me dislike the Resistance as much as Breathe. The dialog is pretty good and I think that is the best part of the novel. How the characters interact with each other in the dialog. If you are looking for the next Hunger Games is it not it but if you want a interesting

dystopian

then give this one a try.
I give this book a Four out of Five stars. I get nothing for my review and I bought this book with my own money.