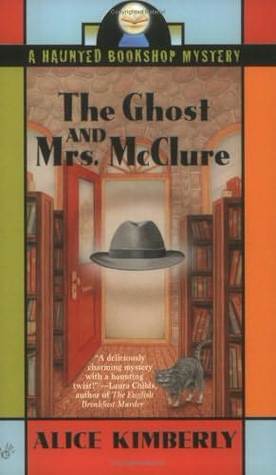 Today's post is on
The Ghost and Mrs. McClure
by Alice Kimberly. It is the first in her
Haunted Bookshop Mystery
. It is 261 pages long and is published by Berkley Prime Crime Mystery. The cover has a floating hat in the center with a cat behind it. The intended reader is someone who likes cozy mysteries and fun story lines. There is mild foul language, implied sex, and mild violence in this book. The story is told in two ways: first person by Pen and third person by Jack. There Be Spoilers Ahead.
From the back of the book-
This spirit is willing - to catch a killer.
Young widow Penelope Thornton-McClure and her old Aunt Sadie are making ends meet by managing a mystery bookshop- a quaint Rhode Island landmark rumored to be haunted. Pen may not believe in good publicity- like nabbing Timothy Brennan for a book signing. But soon after the bestselling thriller writer reveals a secret about the store's link to a 1940s murder, he keels over dead- and right in the middle of the store's new Community Events space.
Who gives Mrs. McClure the first clue that it was murder? The bookstore's full-time ghost- a PI murdered on the very spot more than than fifty years ago. Is he a figment of Pen's overactive imagination? Or is the oddly likeable fedora-wearing specter the only hope Pen has to solve the crime? you can bet your everlasting life on it...
Review-
A very fun cozy mystery with some interesting characters in a fun setting. Pen is just trying to keep herself and her son together when her Aunt Sadie tells her that she is going to close down the family book store. But Pen loves the old place and so she moves herself and her son Spenser back home to try and save the bookstore. Jack Shepard has just been hanging around in limbo when Pen wakes him up with her improvements to the book store. That is the set-up at the start of the book. The murder happens and Pen can hear ghosts, more than just Jack but we only see him in this book.The mystery does follow the formula but its the characters that make the story fun. Jack is funny and talks in the same way that he did when he died. Pen is smart and she catches on very quickly. I did guess who did it but I enjoyed the ride with the characters.
I give this volume a Four out of Five stars. I get nothing for my review and I was given this book as a
birthday gift.