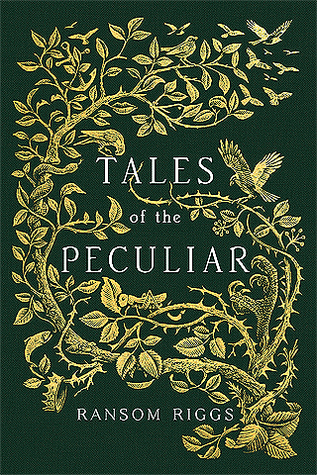 Today's post is on
Tales of the Peculiar
by Ransom Riggs. It is 160 pages long and is published by Dutton Books. The cover is green with the title and embellishments are in gold. The intended reader is someone who has read
Miss Peregrine's Home for Peculiar Children
trilogy to really get the stories. There is no foul language, no sex, and very mild violence in this collection. The stories are told from third person perspective. There Be Spoilers Ahead.
From the back of the book-
Before Miss Peregrine gave them a home, the story of peculiars was written in the Tales.
Wealthy cannibals who dine on the discarded limbs of peculiars. A fork-tongued princess. The origins of the first ymbryne. These are but a few of the truly brilliant stories in Tales of the Peculiar—known to hide information about the peculiar world—first introduced by Ransom Riggs in his Miss Peregrine's Peculiar Children series.
Riggs now invites you to share his secrets of peculiar history, with a collection of original stories, as collected and annotated by Millard Nullings, ward of Miss Peregrine and scholar of all things peculiar.
Review- This is a very fun read for fans of
Miss Peregrine's Home for Peculiar Children, like myself. I enjoyed reading some of the stories that were referenced over the course of the trilogy in full. We get ten stories of some peculiars and the world that they lived in. Riggs takes us through different times in the history of peculiars; from when they lived with normal humans to the making of the first loop for them to hide in. I wish that this collection was longer and had the full stories that we read parts of over the original trilogy. I hope that Riggs does more like this but I would understand if he wants to move on to his next project.
I give this collection a Four of Five stars. I get nothing for my review and I borrowed this book from my local library.