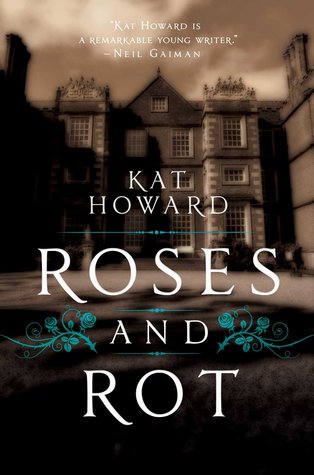 Today's post is on
Roses and Rot
by Kat Howard. It is a stand alone novel. It is 307 pages long and is published by Saga Press. The cover is brown and grey with a imposing building the in background. The intended reader is someone who likes urban fantasy/horror stories, dark tales of the Fae, and inventive plots. There is mild sexuality, mild foul language, and no violence in this novel. The story is told from first person close of the main character. There Be Spoilers Ahead.
From the dust jacket-
A prestigious artists' retreat holds dark secrets as desire for art and love are within grasp for Imogen and for her sister, Marin, but at a terrible price.
What would you sacrifice in the name of success?
Imogen has grown up reading fairy tales about mothers who die and make way for cruel stepmother. As a child, Imogen used to lie in bed, wishing her own mother would die, because she couldn't imagine how a stepmother might be worse. As adults, Imogen and Marin have more or less escaped their mother- Imogen as a writer and Marin as a dancer- and they're both accepted to an elite postgrad arts program at Melete. Imogen might be living in a fairy tale after all, and it's one that will pit her against her sister if she really wants to escape her past.
Review-
Another blurb that is not the story. Imogen's past is talked about in passing, it is important, what is really going on at Melete is more important. Imogen is not pitted against her sister, she is trying to save Marin. The Fea are not even mentioned and they are the villains of the story and very important to the plot moving forward. The plot is interesting, with lots of different characters and character arcs for them. Every character was given a story arc; even the side characters. I really felt like I got to really see them. I did not feel that any character was replaceable and that is unusual. I like how Howard portrays the Fae. They are amoral, humans are just food to them, and even the one that we should like is still a not good guy. I look forward to what Howard writes next.
I give this novel a Four out of Five stars. I get nothing for my review and I borrowed this book from my local library.