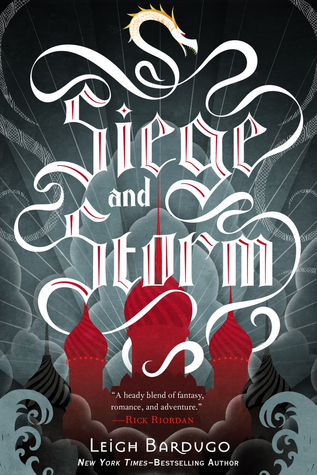 Today's post is on
Siege and Storm
by Leigh Bardugo. It is the second in her
The Grisha
trilogy. It is 432 pages long and is published by Henry Holt and Company. The cover is blue with the title and a dragon in silver. The intended reader is someone who read the first one, likes Russian influenced lore, and fast plots. The story is told from first person close of the main character Alina. There is mild foul language, no sex, and violence in this book. There Be Spoilers Ahead.
From the back of the book-
Darkness never dies.
Hunted across the True Sea, haunted by the lives she took on the Fold, Alina must try to make a life with Mal in an unfamiliar land. She finds starting new is not easy while keeping her identity as the Sun Summoner a secret. She can't outrun her past or her destiny for long.
The Darkling has emerged from the Shadow Fold with a terrifying new power and a dangerous plan that will test the very boundaries of the natural world. With the help of a notorious privateer, Alina returns to the country she abandoned, determined to fight the forces gathering against Ravka. But as her power grows, Alina slips deeper into the Darkling's game of forbidden magic, and farther away from Mal. Somehow, she will have to choose between her country, her power, and the love she always thought would guide her--or risk losing everything to the oncoming storm.
Review- The story picks up just a few months after the end of the first book. Alina and Mal have run across the True Sea and are trying to get further inland. But of course they are caught by The Darkling. He wants or needs Alina back. Like the first book I am just not sure about what The Darkling's goals truly are. Does he want to rule the world? I would not be surprised but I think that there is something more that he wants. He has learned to fear Alina and works for her in this volume to try and get her back on his side. So Alina and Mal go back to the Little Palace and Alina wants to make sure that she finishes The Darling off this time. Nothing goes as planned but the novel ends with some good plot points and I cannot wait to see where we are going to go as this finishes.
I give this volume a Four out of Five stars. I get nothing for my review and I borrowed this book from my local library.