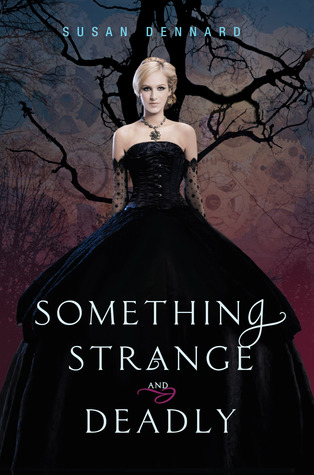 Today's post is on
Something Strange and Deadly
by Susan Dennnard. It is the first in her
Something Strange and Deadly
series. It is 388 pages long and is published by HarperTeen. The cover has the main character on it wearing a lovely black dress. The intended reader is someones who likes historical fantasy, unusual plots, and mild romance. There in mild foul language, no sex, and mild violence in this book. The story is told from first person of the main character. There Be Spoilers Ahead.
From the dust jacket-
There's something strange and deadly loose in Philadelphia. . . .
Eleanor Fitt has a lot to worry about.
Her brother has gone missing, her family has fallen on hard times, and her mother is determined to marry her off to any rich young man who walks by. But this is nothing compared to what she's just read in the newspaper:
The Dead are rising in Philadelphia.
And then, in a frightening attack, a zombie delivers a letter to Eleanor . . . from her brother.
Whoever is controlling the Dead army has taken her brother as well. If Eleanor is going to find him, she'll have to venture into the lab of the notorious Spirit-Hunters, who protect the city from supernatural forces. But as Eleanor spends more time with the Spirit-Hunters, including the maddeningly stubborn yet handsome Daniel, the situation becomes dire. And now, not only is her reputation on the line, but her very life may hang in the balance.
Review- A fun and unusual historical urban fantasy. Eleanor does take a little while to grow on you but she is really up against a wall for the whole story. Her mother has wasted all their money and now they need her brother to return and save them from the poor house. Eleanor is a young woman of her time with needs and wants that are greater than they 'should' be. She wants to be more than just a woman of her time. She wants to be her own. I think that nercomacy which is the magic for this series is very fun and that zombies are being done right. They do not just raise, someone has to control the body. If the nercomancer loses control then the zombies go on a rampage of destruction. But there are lots of plot things and character things happening that are going to be dealt with in the next book. I am curious about where Dennard is going with the story.
I give this book a Four out of Five stars. I get nothing for my review and I borrowed this book from my local library.