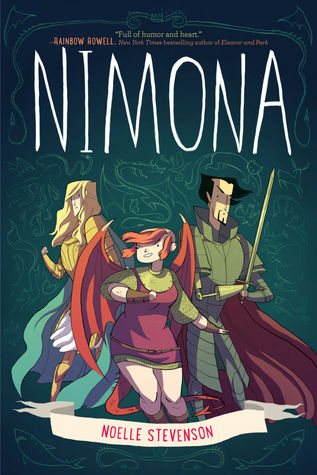 Today's post is on
Nimona
by Noelle Steveson. It is 256 pages long and is published by HarperTeen. The cover has the three main characters on it. The intended reader is young adult but adults who like comics will like this comic too. There is some mild foul language, no sex, and violence in this comic. The story is told from the third person god perspective with the epilogue told from Ballister's perspective. There Be Spoilers Ahead.
From the back of the book-
Nemeses! Dragons! Science! Symbolism!
Nimona is an impulsive young shapeshifter with a knack for villainy. Lord Ballister Blackheart is a villain with a vendetta. As sidekick and supervillain, Nimona and Lord Blackheart are about to wreak some serious havoc. Their mission: prove to the kingdom that Sir Ambrosius Goldenloin and his buddies at the Institution of Law Enforcement and Heroics aren't the heroes everyone thinks they are.
But as small acts of mischief escalate into a vicious battle, Lord Blackheart realizes that Nimona's powers are as murky and mysterious as her past. And her unpredictable wild side might be more dangerous than he is willing to admit.
Review- A cute story about friendship and being different. Nimona believes that she is a villain for story reasons so she seeks out the biggest named villain in the world Sir Ballister Blackheart to become his sidekick. Sir Ballister has been painted as a villain by the
Institution of Law Enforcement and Heroics for reasons that he does not know but his once best friend
Sir Ambrosius Goldenloin is now his sworn nemeses. Lots of character development so it is a little light on plot but the characters more than make up for that. There are questions about what is real villainy and how do you know what real heroes are and all that good stuff. I really had a good time with this comic and I look forward to what Stevenson writes next.
I give this book a Five out of Five stars. I get nothing for my review and I borrowed this book from my local library.