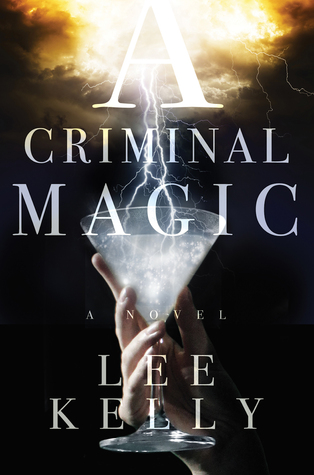 Today's post is on
A Criminal Magic
by Lee Kelly. It is 422 pages long and is published by Saga Books. The cover is black with lightening going in a cocktail glass. This is a stand alone novel. The intended reader is older young adult and adults, someone who likes unusual settings, and good plots. There is some mild language, implied sex, and violence in this book. The story is told from third person close of the two main characters Joan and Alex. There Be Spoilers Ahead.
From the dust jacket-
Magic is powerful, dangerous and addictive - and after passage of the 18th Amendment, it is finally illegal.
It's 1926 in Washington, DC, and while Anti-Sorcery activists have achieved the Prohibition of sorcery, the city's magic underworld is booming. Sorcerers cast illusions to aid mobsters' crime sprees. Smugglers funnel magic contraband in from overseas. Gangs have established secret performance venues where patrons can lose themselves in magic, and take a mind-bending, intoxicating elixir known as the sorcerer's shine.
Joan Kendrick, a young sorcerer from Norfolk County, Virginia accepts an offer to work for DC's most notorious crime syndicate, the Shaw Gang, when her family's home is repossessed. Alex Danfrey, a first-year Federal Prohibition Unit trainee with a complicated past and talents of his own, becomes tapped to go undercover and infiltrate the Shaws.
Through different paths, Joan and Alex tread deep into the violent, dangerous world of criminal magic - and when their paths cross at the Shaws' performance venue, despite their orders, and despite themselves, Joan and Alex become enchanted with one another. But when gang alliances begin to shift, the two sorcerers are forced to question their ultimate allegiances and motivations. And soon, Joan and Alex find themselves pitted against each other in a treacherous, heady game of cat-and-mouse.
A CRIMINAL MAGIC casts a spell of magic, high stakes and intrigue against the backdrop of a very different Roaring Twenties.
Review- A fantastic story about roaring twenties with incredible magic. The magic and the sorcerers are just so much fun in this book. On one hand this is a very dark story about drugs and the mob and cops coming to get people but on the other it is a wonderful story about two characters trying to survive this dark world. Both characters want to fix the past but they cannot so they are floating in the present, unsure of where they are going or why they are still going on. Joan says she has to protect her sister and cousin but over the course of the story she has to deal with feeling her lack of place in this world. Alex wants make his mother proud but he is in over his head. They both want more than just what they have. It is very tragic but I really enjoyed this book.
I give this book a Five out of Five stars. I get nothing for my review and I borrowed this book from my local library.