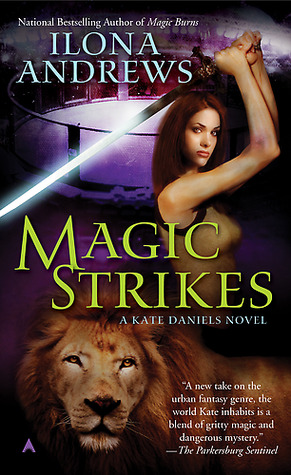 Today's post is on
Magic Strikes
by Ilona Andrews. It is the third in their
Kate Daniels
series. It is 310 pages long and is published by Ace Fantasy. The cover has Kate and Curran it. The intended reader is someone who has read the first two, likes urban fantasy, and interesting characters. There is language, no sex, and lots of violence in this book. The story is told from the first person perspective of Kate. There Be Spoilers Ahead.
From the back of the book-
When magic strikes and Atlanta goes to pieces, it's a job for Kate Daniels…
Drafted into working for the Order of Merciful Aid, mercenary Kate Daniels has more paranormal problems than she knows what to do with these days. And in Atlanta, where magic comes and goes like the tide, that's saying a lot.
But when Kate's werewolf friend Derek is discovered nearly dead, she must confront her greatest challenge yet. As her investigation leads her to the Midnight Games—an invitation only, no holds barred, ultimate preternatural fighting tournament—she and Curran, the Lord of the Beasts, uncover a dark plot that may forever alter the face of Atlanta's shapeshifting community…
Review- Another good urban fantasy from the team. The story overall has been the best so far and I laughed at moments. I liked getting to know more about Kate, Curran was amusing, and I liked the greater world building. I like that Team Andrews is not afraid to make things too big. Most authors want their worlds to be easily controllable but I get the feeling that Team Andrews just wants to write what the story is. Normally I do not like a heavy-handed hero but Curran gets a pass from me. I only reason that I can think of for that is because of Kate. She never backs down from him or anyone. She does not want to die but she will not bend to anyone, no matter the cost. I like that about her.
I give this one a Five out of Five stars. I get nothing for my review and I bought this book with my own money.