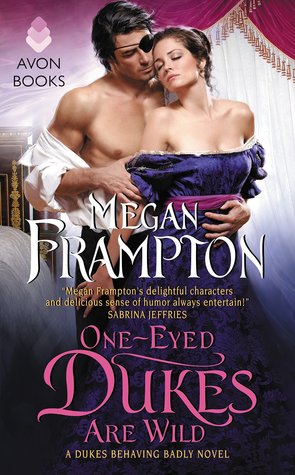 Today's post is on
One-Eyed Dukes Are Wild
by Megan Frampton. It is 375 pages long and is published by Avon Books. The cover has the two main characters on it looking passionate. The intended reader is someone who likes historical romance, good characters, and fun. There is no language, sex, and no violence in this book. The story is told from third person close perspective of the two main characters. There Be Spoilers Ahead.
From the back of the book-
When does proper behavior deserve a deliciously improper reward?
The scandalously unmarried Lady Margaret Sawford is looking for adventure—and is always up for a challenge. Her curiosity is aroused by a dangerous-looking stranger with an eye patch, an ideal companion for the life she longs for, no matter what Society might say. So when the piratical gentleman turns out to be a duke—and just as boringly proper as any other nobleman—she can't help but incite him to walk on the wild side.
Well-heeled, well-mannered, and well beyond any interest in society's expectations, the Duke of Lasham is tired of being perfect. Margaret's lush beauty and gently laughing eyes are an irresistible temptation to embrace the imperfect—and her. But if a little misbehavior is appealing, unleashing his wild side is completely seductive—as long as the lovely Margaret is the object of his passion.
Review- This is a fun and charming historical romance. In my opinion the best part is that the hero and heroine talk to each other. Everything that happens between them is 100% consensual. There is one and half sex scenes in this book but there is no question about consent. The hero is not wild but a decent man who wants a little adventure in his life and the heroine likes him for him. The Duke does not just want to have a good time then out the door, he likes the heroine but he does not know how to ask for more than what they have. The heroine is interesting because she does not want to ruin the Duke because she know how easy it is to be ruined in their society. So two adults having a raltionship in which they talk to each about what they want and are willing to meet in the middle. I wish more books in general were like this one. A very fun and entertaining romp.
I give this book a Five out of Five stars. I get nothing for my review and I borrowed this book from my local library.