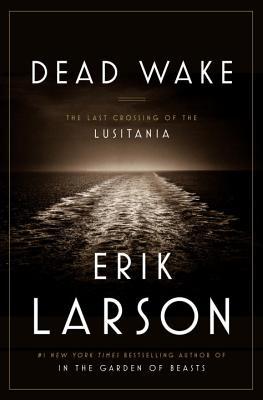 Today's post is on
Dead Wake: The Last Crossing of the Lusitania
by Erik Larson. It is 430 pages long including notes and is published by Crown. The cover is black with the wake of a ship in white. The intended reader is someone who likes history and good nonfiction. There is no language, no sex, and no violence in this book. There Be Spoilers Ahead.
From the dust jacket-
On May 1, 1915, with WWI entering its tenth month, a luxury ocean liner as richly appointed as an English country house sailed out of New York, bound for Liverpool, carrying a record number of children and infants. The passengers were surprisingly at ease, even though Germany had declared the seas around Britain to be a war zone. For months, German U-boats had brought terror to the North Atlantic. But the
Lusitania
was one of the era's great transatlantic "Greyhounds"—the fastest liner then in service—and her captain, William Thomas Turner, placed tremendous faith in the gentlemanly strictures of warfare that for a century had kept civilian ships safe from attack.
Germany, however, was determined to change the rules of the game, and Walther Schwieger, the captain of Unterseeboot-20, was happy to oblige. Meanwhile, an ultra-secret British intelligence unit tracked Schwieger's U-boat, but told no one. As U-20 and the Lusitania made their way toward Liverpool, an array of forces both grand and achingly small—hubris, a chance fog, a closely guarded secret, and more—all converged to produce one of the great disasters of history.
It is a story that many of us think we know but don't, and Erik Larson tells it thrillingly, switching between hunter and hunted while painting a larger portrait of America at the height of the Progressive Era. Full of glamour and suspense, Dead Wake brings to life a cast of evocative characters, from famed Boston bookseller Charles Lauriat to pioneering female architect Theodate Pope to President Woodrow Wilson, a man lost to grief, dreading the widening war but also captivated by the prospect of new love.
Gripping and important, Dead Wake captures the sheer drama and emotional power of a disaster whose intimate details and true meaning have long been obscured by history.
Review- Another great Larson book. Larson takes the reader from the beginning of The Lusitania's last crossing to what happened to those who survived it. From the U-boat captain who ordered the firing to the spiritualist who lost a friend but continued to see him. It was very interesting and I had a really good time reading this book. Like normal Larson does a great job with his research. The notes are very intensive and could add so much for the reader wanted to learn more. I liked how broad the scope of this book is. I liked reading about what the code-breakers for the British government were doing at the same time that President Wilson was courting his soon-to-be new wife. The writing is much smoother than in Devil in the White City but he has the same scope and import to the story.
I give this book a Five out of Five stars. I get nothing for my review and I borrowed this book from my local library.