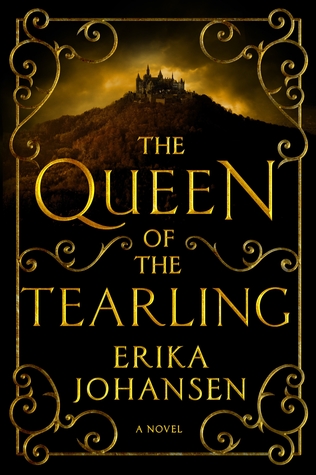 Today's post is on The Queen of the Tearling by Erika Johansen. It is the first in a trilogy. It is 448 pages long and is published by HarperCollins. The cover is very dark with a castle at the top with reddish lightening behind it. The intended reader is someone who likes fantasy. The story is told from third person god point of view so that the reader can get into the heads of the characters as the story moves. There is strong language, talk of sex and rape, and lots of violence in this book; older teens and adult only for the best. There Be Spoilers Ahead.
From the back of the book- On her nineteenth birthday, Princess Kelsea Raleigh Glynn, raised in exile, sets out on a perilous journey back to the castle of her birth to ascend her rightful throne. A girl who loves books and learning, Kelsea bears little resemblance to her mother, the vain and frivolous Queen Elyssa. But though she may be inexperienced, Kelsea is not defenseless: around her neck hangs the Tearling sapphire, a jewel of immense magical power; and accompanying her is the Queen's Guard, a cadre of brave knights led by the enigmatic and dedicated Lazarus.
Despite her royal blood, Kelsea feels like nothing so much as an insecure girl. But what she discovers in the capital will change everything, and an act of singular daring will throw Kelsea's kingdom into tumult, unleashing the vengeance of the tyrannical ruler of neighboring Mortmesne: the Red Queen, a sorceress possessed of the darkest magic.
But the quest to save her kingdom and meet her destiny has only just begun- a wondrous journey of self-discovery and a trial by fire that could make her a legend… if she can survive.
Review-This was an interesting read. As I was reading I could tell what the author Johansen has read. I could be wrong but I think that she has read The Girl of Fire and Thorns trilogy and The Darkangel Trilogy by some of the themes in the story. This fantasy is not pure fantasy but some kind of mix with science fiction. Humans were bought to this world by a visionary leader who wanted to save mankind from destruction; like in The Girl of Fire and Thorns but it is not God in this novel. There is high fantasy and science so advanced it is magic; like in The Darkangel. The world building is slow but I liked that. I felt that I was getting to know the greater world as Kelsea was. Kelsea is a young woman who has been protected from too much knowledge about her mother and her world in hopes of her finding the current world too horrible to live with and thus change it. At least that is my opinion about why Kelsea was not told so much by her care-takers. There are traitors, useless nobles, slaves, and a dark power behind the Red Queen. I am very curious about where Johansen is going with this plot. If you are looking for something a little different flavor than so much out today then give this book a try.
I give this book a Four of out Five stars. I was given this book by HarperCollins in exchange for an honest review.